SwitchArcade Round-Up: 'Cat Quest II', 'Anthill', 'Ghost Blade HD', and Today's Other New Releases, the Latest Sales Including 'Dandy Dungeon' and More
Hello gentle readers, and welcome to the SwitchArcade Round-Up for October 24th, 2019. It's Thursday today, and that means a whole bunch of new games have hit the eShop. As usual, we're dedicating the bulk of today's feature to summarizing each and every one of them. The highlights include the excellent Cat Quest II, the charming Anthill, a couple of literal NES ports, and an HD version of a 2015 Dreamcast game. Wow, what a mix. We've also got a good list of sales to look through, so make sure you stick around until the very end. Let's take a leap!
New Releases
Cat Quest II ($14.99)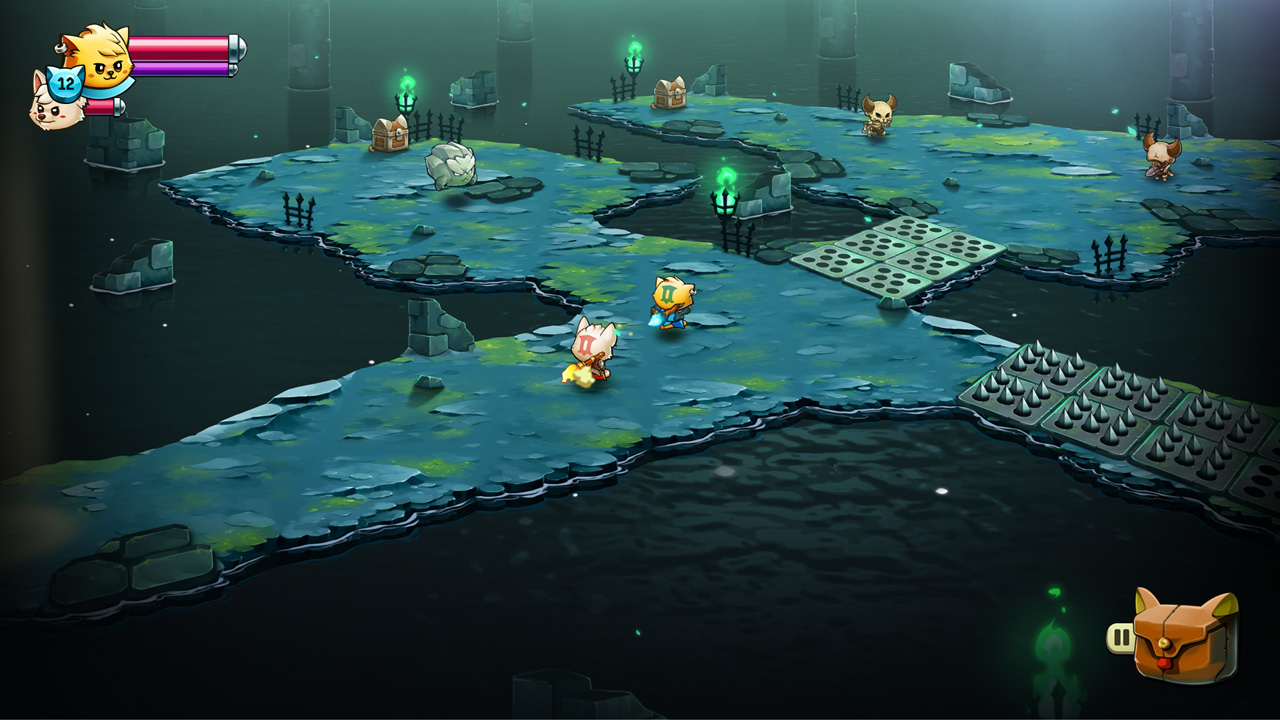 SwitchArcade Highlight!
Cat Quest II, or as I like to call it, 2 Cat 2 Quest, is just about everything you could want in a sequel. The gameplay mechanics and overall structure aren't too different from the original game, but one major new element helps make it all fresh again. This time you have not only a cat but also a dog to play as. The two work together, and if you have a second player willing to join in you can each take control of one hero and enjoy some local co-op. It's just as much fun solo, though, and you'll instead switch between the two characters whenever the situation calls for it. Beyond that, there are new weapon types, more magic, new abilities, and of course an entirely new quest and story. Note that this game is on Apple Arcade and it's quite playable with touch controls, but if you want a copy to keep, you'll certainly get your money's worth out of this Switch port.
Anthill ($9.99)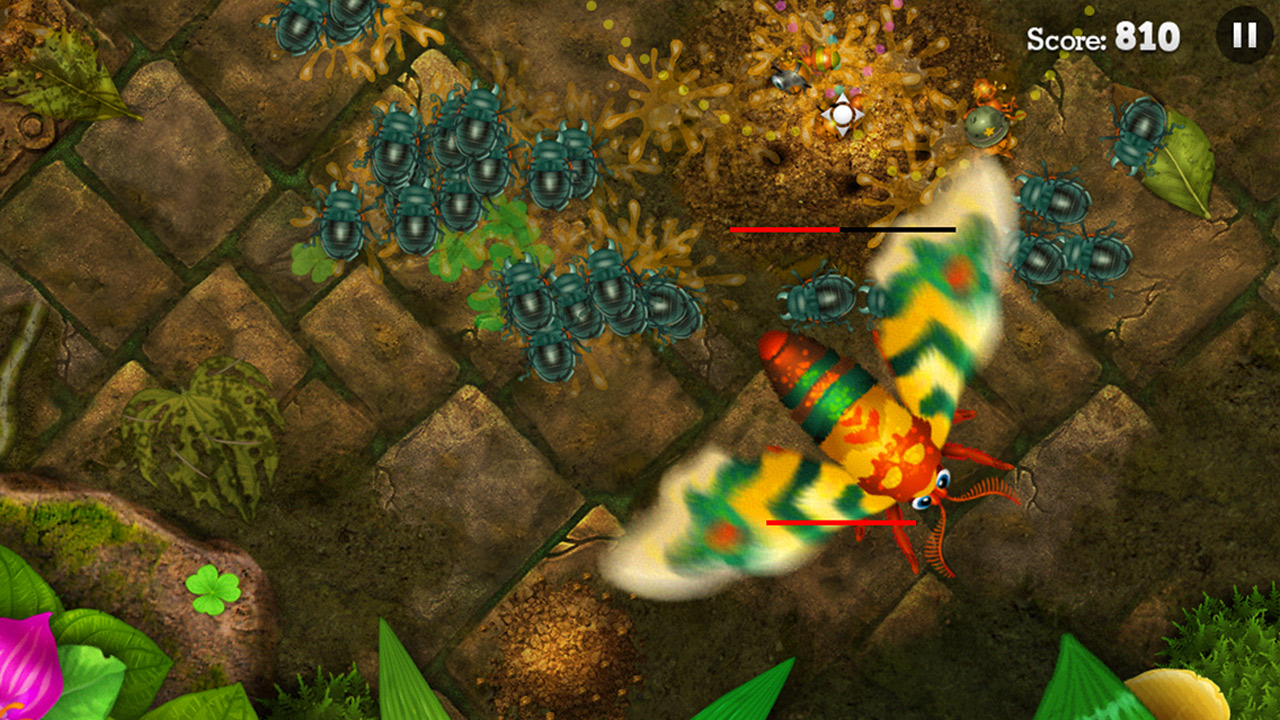 SwitchArcade Highlight!
Important notice: Anthill is only playable undocked. It is controlled with the touch screen, so if you primarily play on your TV, this one isn't for you. With that out of the way, let's get into the summary. This is a real-time strategy game from Image & Form of SteamWorld fame, and may be familiar to fans of mobile games. Draw paths for your ants to secure food, defend your hill, make tactical strikes, and harvest dead enemies for resources. It includes all of the updates and DLC that came after the game's launch on mobile so many years ago, so you get the whole experience. It's a really great little game with plenty of charm.
Ghost Blade HD ($14.99)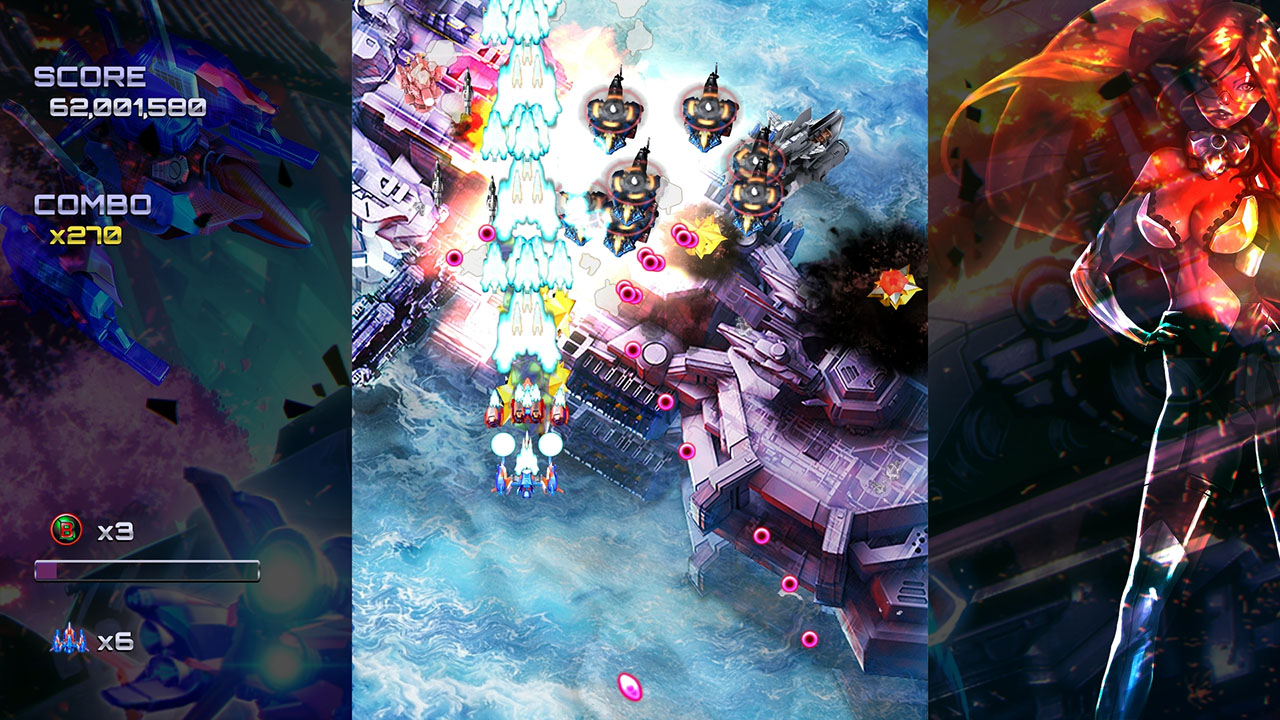 Well, it's a vertical bullet-hell shoot-em-up. But at least it's only a few years old, which means you may not have played it before. You might feel like you have, however, as the game makes a strong effort at evoking some of the stone-cold classics of the 1990s. It does an okay job of that, though I'm not sure it makes an extremely compelling case for itself when you can pick from a wide selection of Psikyo's finest at lower prices. I think my big gripe with Ghost Blade is that it's a bit on the easy side, and I don't find its scoring system to be overly exciting. It's a fun romp while it lasts but it just doesn't have the staying power I'm looking for in a shoot-em-up like this. The art is really nice, though.
Dark Devotion ($19.99)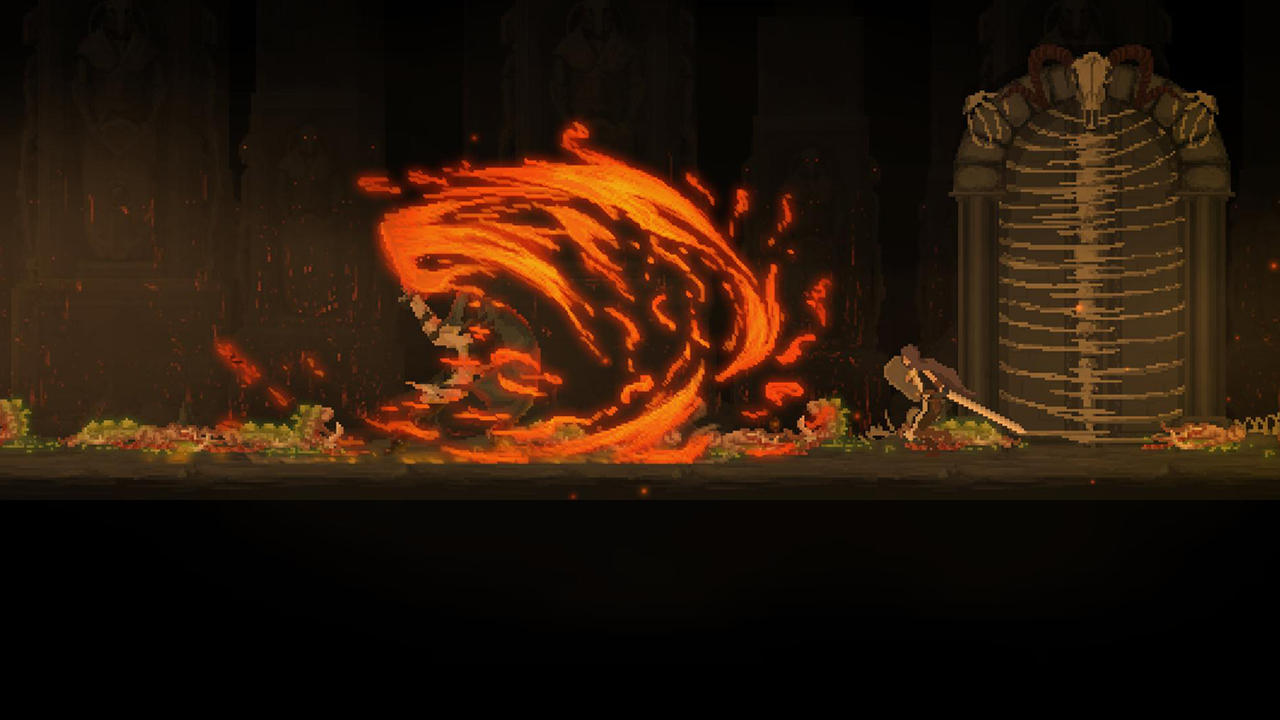 The most common comparison you'll see come up if you read about this game online is Dark Souls, and while that's the most common comparison you'll see for just about any game these days, it kind of fits here? At least in terms of some of the feel and aesthetic. It's not nearly as punishing, but alternatively it's also not quite as rewarding. Also, it's a 2D game, so it's obviously different in that respect. Rather interestingly, you can't jump. If you fall down somewhere, that's that. No going back. I've spent a bit of time with this one in anticipation of a review, and it's not bad. Nothing to go running down the street shouting about, but pretty enjoyable.
Haunted: Halloween '86 ($9.99)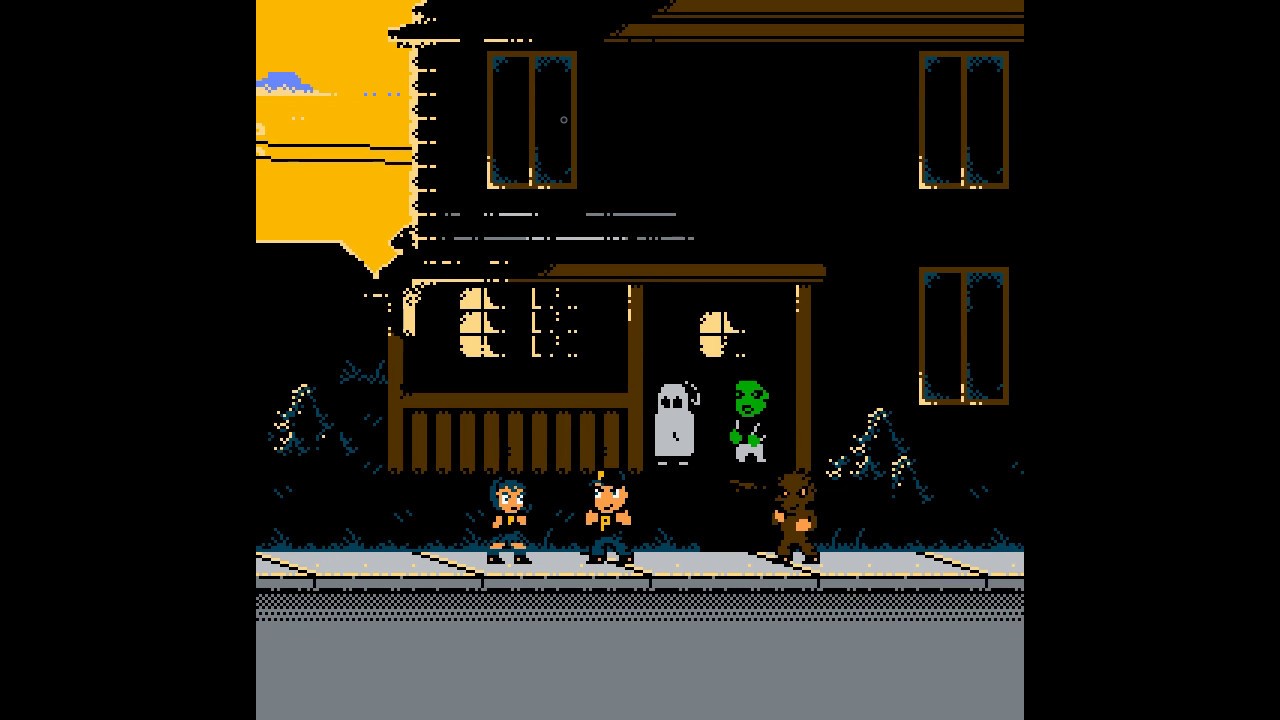 The existence of this game on Switch is probably the most interesting thing about it. This was actually released as an (unlicensed, obviously) NES cartridge a while back, and now it is an officially licensed release on a modern Nintendo platform. Now, given that it does indeed run on NES hardware, you shouldn't expect it to be doing anything that system couldn't. In terms of mechanics, it's a beat-em-up with light platforming elements, and if I had to draw a line as to how its fighting feels, it's a bit like Battletoads. It's not outright terrible or anything, but in spite of the game's concept being perfectly up my alley, it didn't do much for me.
Creepy Brawlers ($4.99)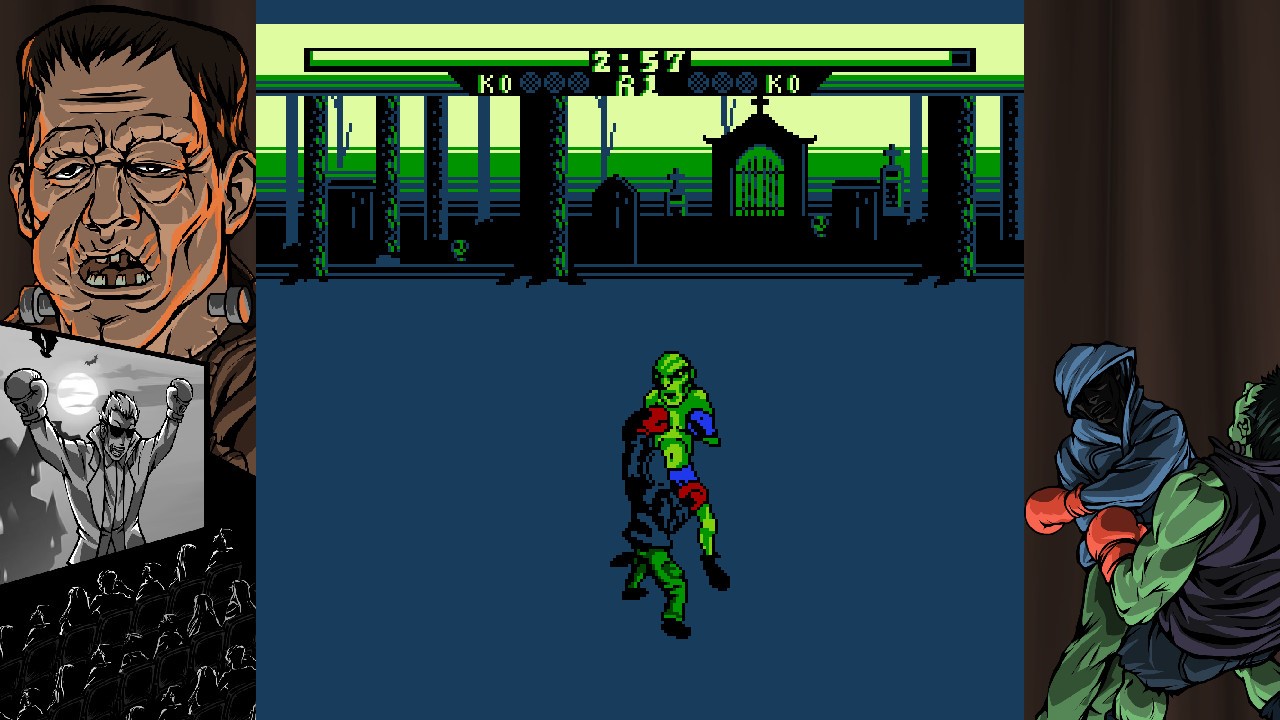 Yes, somehow today we're getting two games that were once unlicensed NES cartridges. Both games are being published by Mega Cat, who also brought out the brawler Coffee Crisis. While the other game was originally developed by Retrotainment, however, this one is Mega Cat's own. And what it is, is a horror movie-themed Punch-Out!!. It doesn't live up to the quality of the presentation of the game it's paying homage to, but it's actually not too bad to play. If you love Punch-Out!!, you will probably get your five dollars' worth out of this one. The idea of being pulled into classic monster movies and battling against generic versions of some of the most famous creatures from them is a really good hook, too. If you're only buying one of these two NES ports, this is the one to go for.
Fear of Traffic ($5.50)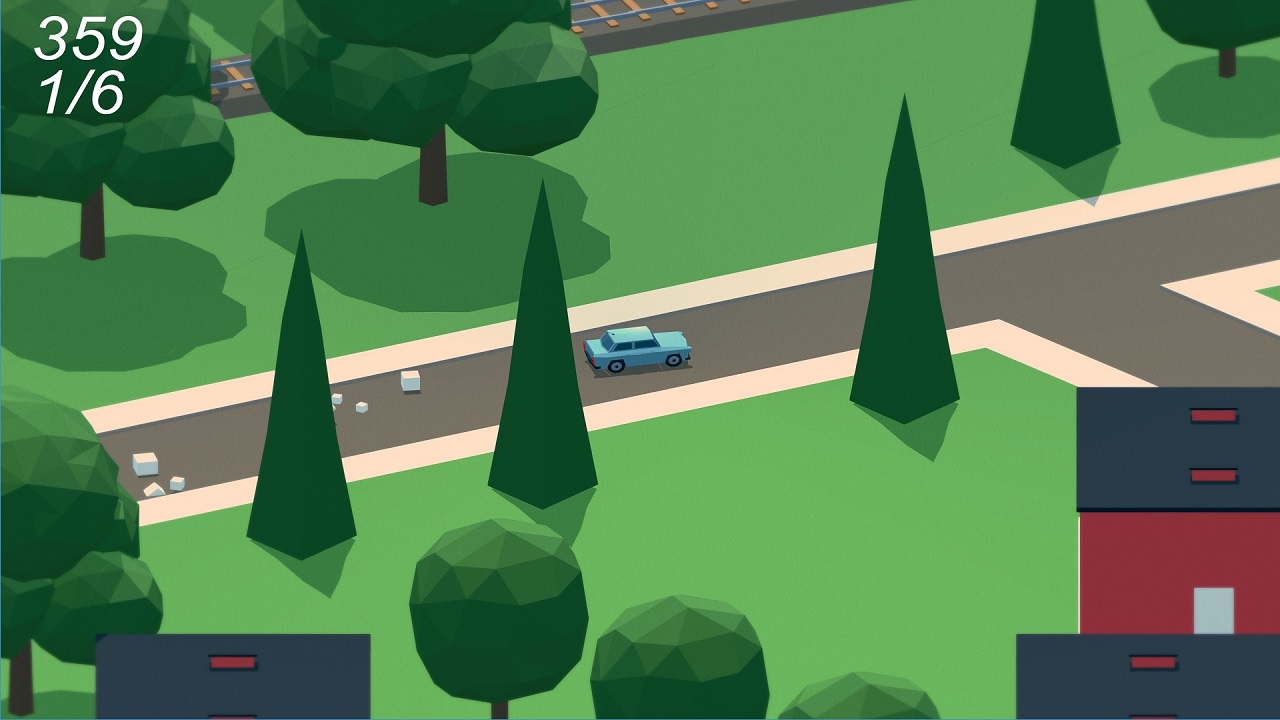 Kind of a mellow and odd little slice of mundane life. Drive around a reasonably-sized city, avoid traffic, pedestrians, and other objects, collect tokens, and make your way to the point on the map that you're directed towards. It looks a little dull to me, but I suppose for the price you really can't expect too much out of it. I guess if you're looking for something relaxing, this might be okay? Could be a little too relaxing, though. I leave it in your capable hands.
Lethis – Path of Progress ($19.99)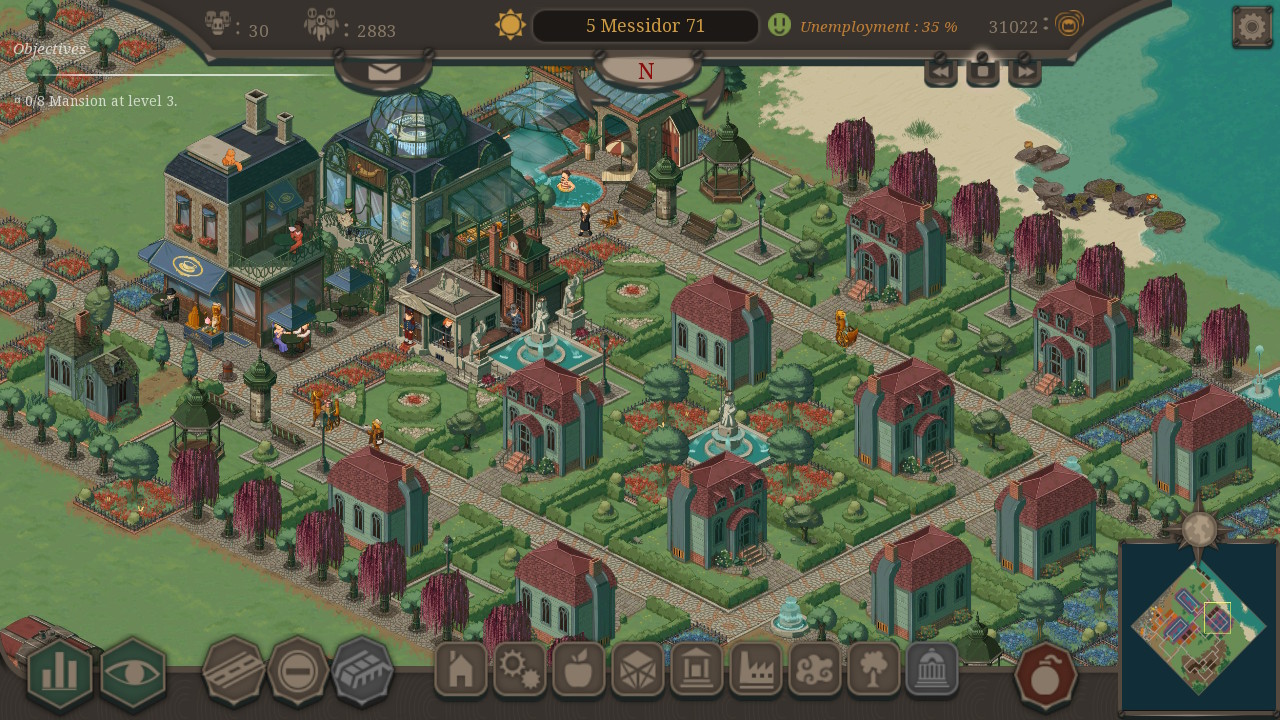 It's a city builder with a Victorian steampunk setting, which is interesting enough just on its face to catch my eye. Unfortunately, that's about as interesting as Lethis ever gets. There's a mission-based campaign mode with three difficulty levels if you need a more guided experience, or a sandbox mode you can mess about in if you like to play in a more open-ended fashion. The presentation here is absolutely outstanding, but as a game I find it a bit on the tedious side when compared to most other builders. I think it's because the game ends up being about constantly reacting, leaving little time to just build in a creative fashion. You're just putting out figurative fires non-stop. I'm generally looking for a less stressful experience with this sort of game, but if that sounds like your kind of thing, by all means.
Dark Veer ($4.49)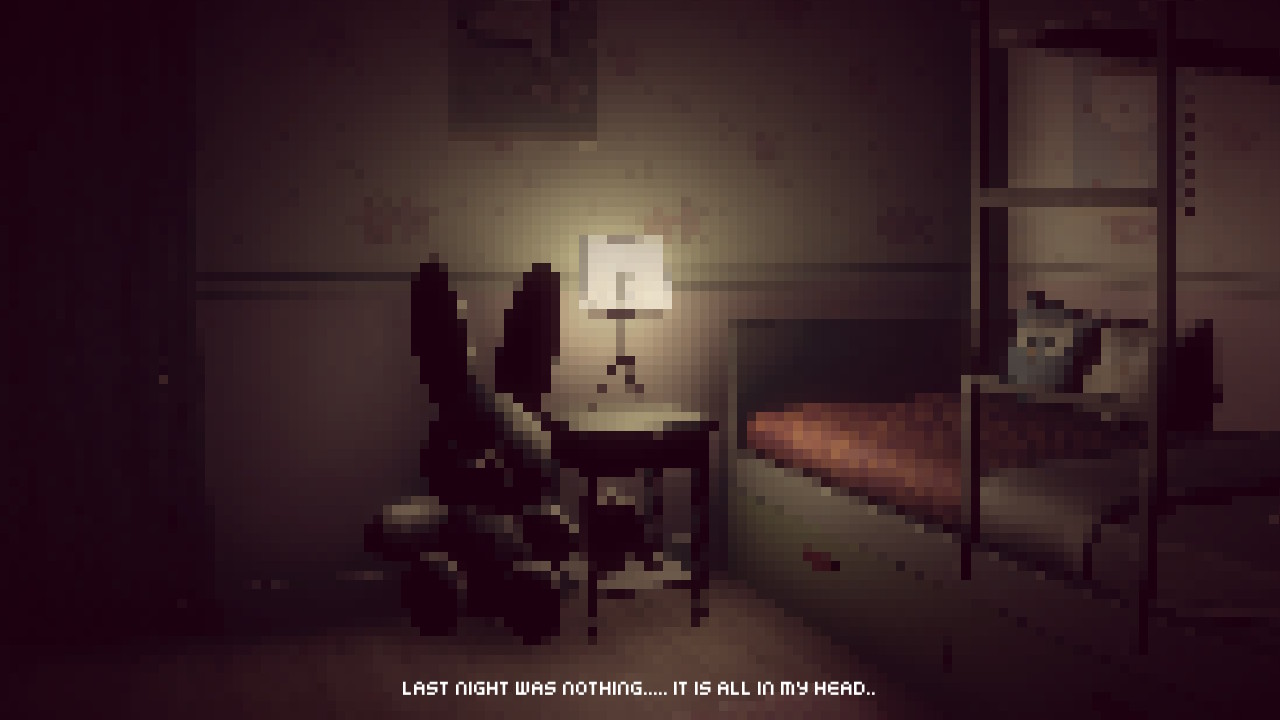 This is one of those Five Nights-inspired games where you're playing a character stuck in one place as scary things happen around them. In this case, you're a child whose father is working the late shift. You can move around your room, but you can't leave it. Each night, things escalate more and more, but the adults just chalk it up to your imagination. It comes by way of the developer behind The Childs Sight, so you can more or less expect the same level of quality from Dark Veer. The art does have an interesting faux-retro look to it, which at least helps it stand out in one respect. Outside of that it's a horror game that relies heavily on jump scares, with some unlockable stuff and a randomized AI that aims to generate replay value.
O x Logic Puzzle 1000 ($14.00)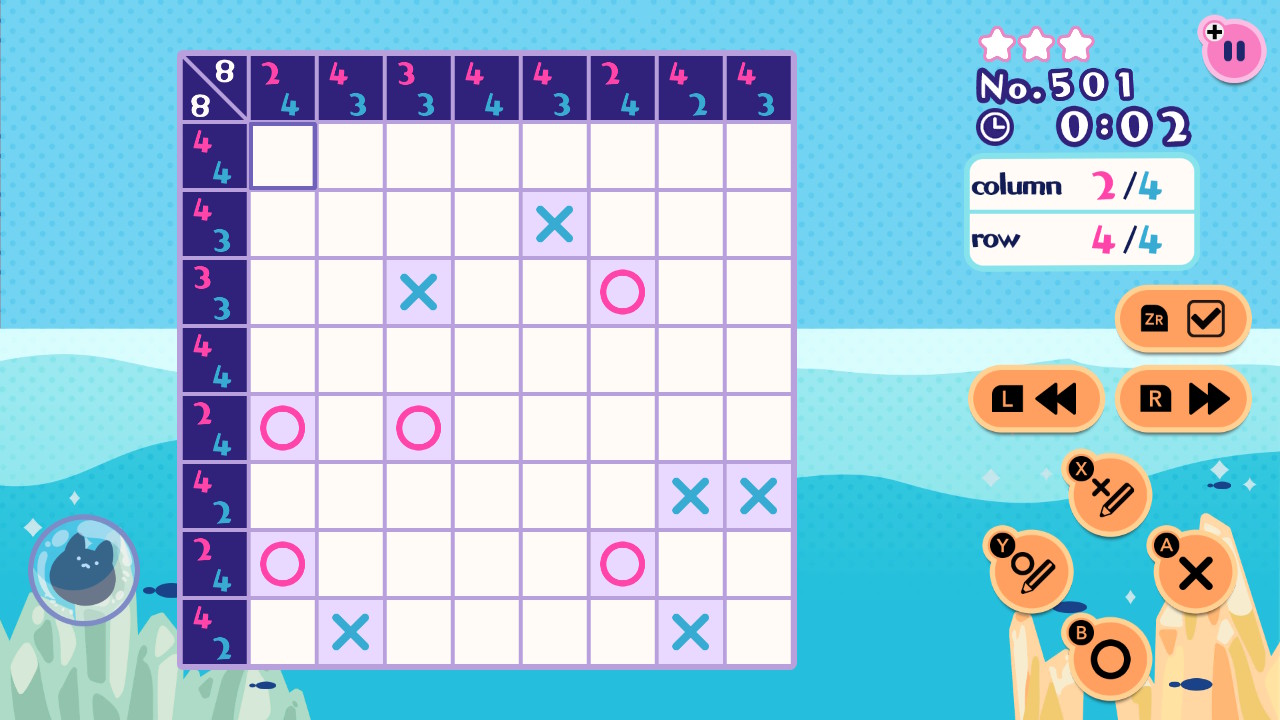 I feel like this is incredibly similar to another puzzle game from the same developer that came out recently, but I'll be darned if I can remember every single game that passes through these halls. Anyway, it's a logic puzzle game where you have to fill in spaces on a grid with O's and X's according to some basic rules. Not too dissimilar from Sudoku in a lot of ways, with a hint of the old Picross in there for good measure. You get 1000 puzzles in total spread across four different difficulty levels, and if you're not tired of the concept by the time you get through those, I don't know what to tell you. I feel like half the content at half the price would have done better, but I'm not the one with the company named Success, am I?
Winter Sports Games ($24.99)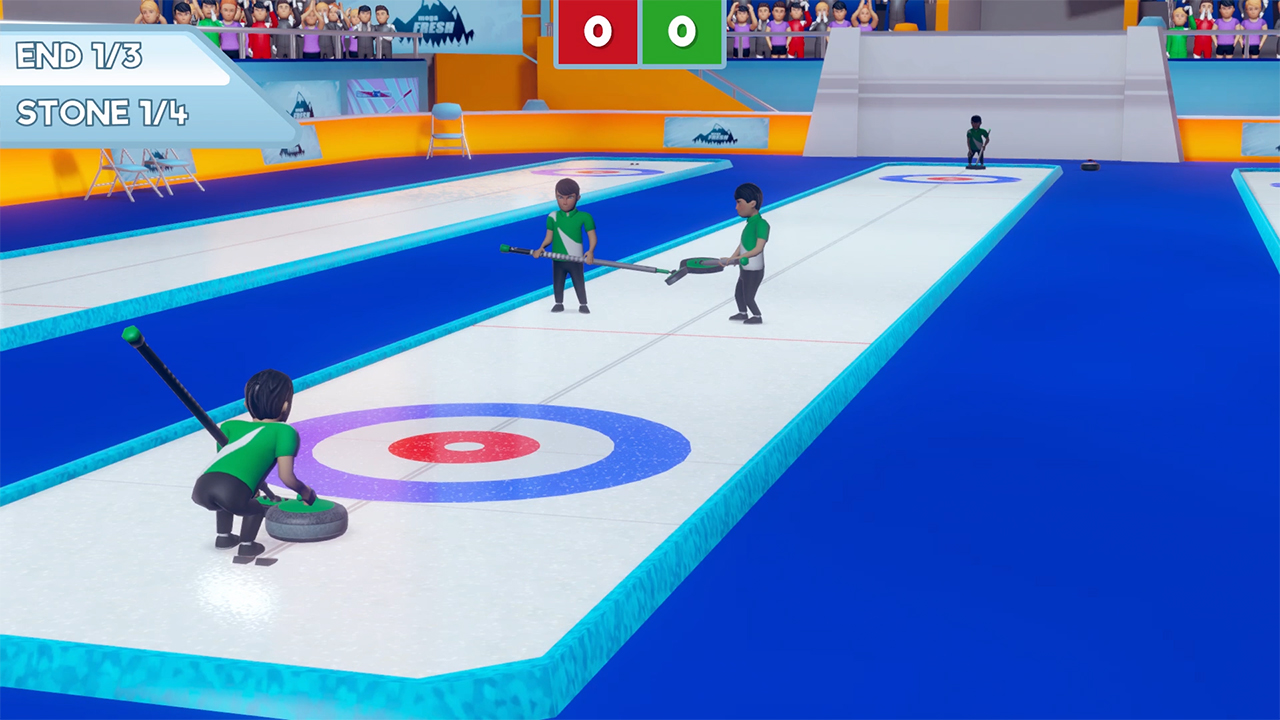 Yeah, I guess it is about that season of the year again, isn't it? This is, as you would probably expect, a collection of winter sports mini-games that you can play alone or with up to four players in local multiplayer. There are six sports here: ski jumping, slalom, downhill skiing, bobsledding, sledging, and curling. You've almost certainly played a game like this before, so you probably know how it goes. Enjoyable with friends, not so much on your own, and probably a little too expensive for what you get. With Mario & Sonic just around the corner, I'd save my money for that game unless you're really married to the whole winter theme.
Vortex Attack EX ($9.99)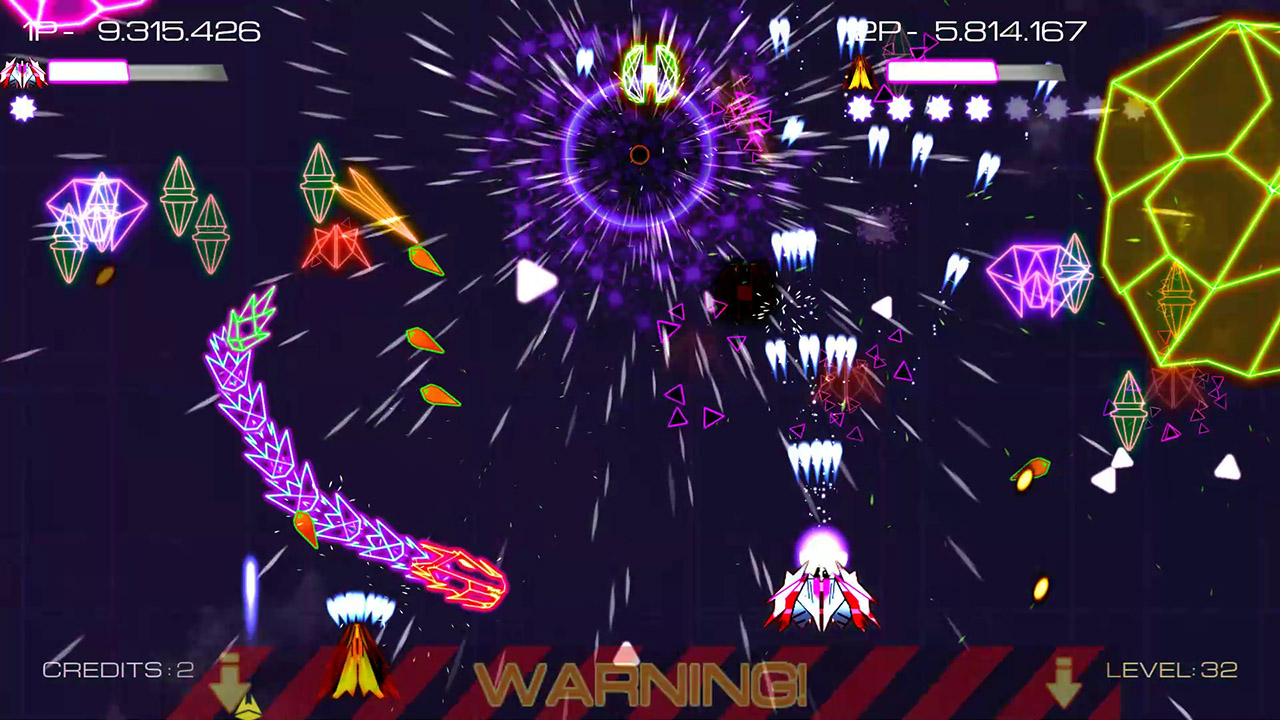 This is a decent little shoot-em-up that pays homage to a number of classics. The coolest feature is that you can play a local multiplayer mode with up to three players. Otherwise, I'd say its strongest point is in how much content it has. There are eleven ship models, more than 150 levels, four levels of difficulty, lots of fun visual filters to play with, ship upgrades, and some other neat options. Unless you're in it for that multiplayer mode, I'm not sure it really stands out that much in what is a very crowded genre on Switch, but it's not bad.
Tennis Go ($8.99)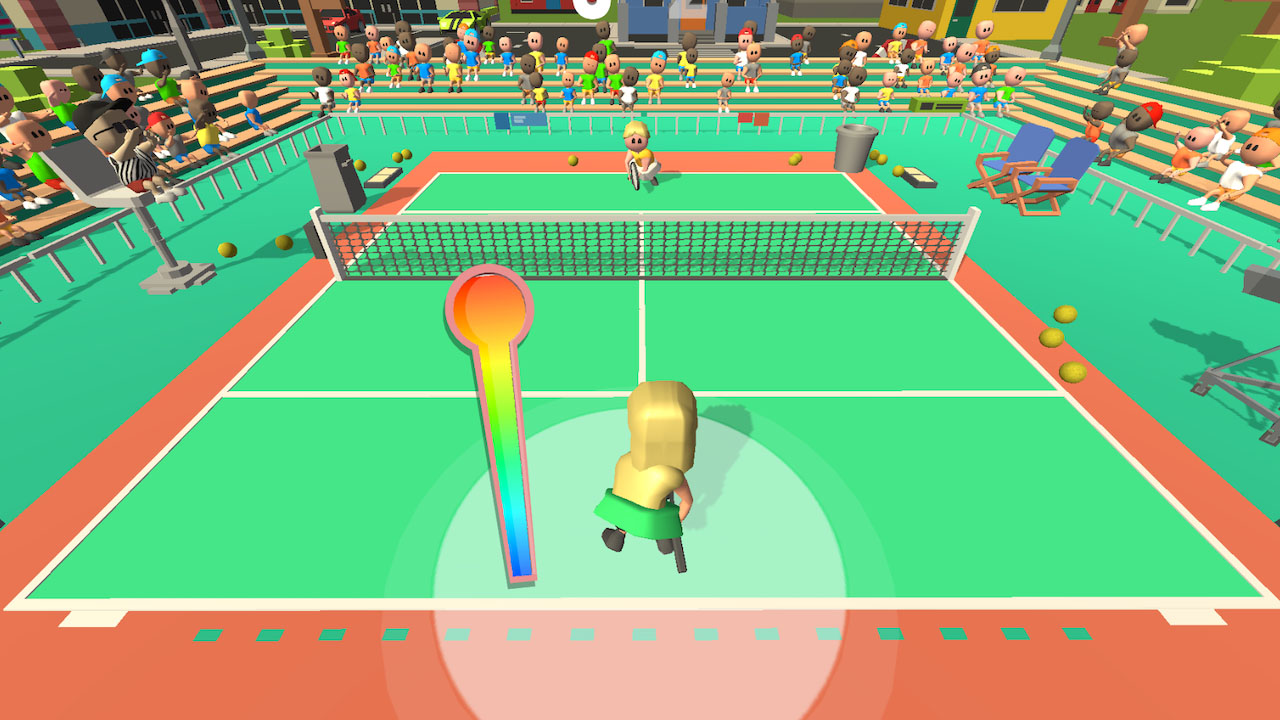 Wow, this looks really… um… budget. To no surprise, this comes from the lovely folks at Sabec. So this is a tennis game, which is traditionally a pretty hard thing to mess up. And yet, life finds a way. This tennis game is single-player only, which makes this worse than not only the NES Tennis but arguably of less entertainment value than Atari's Pong. But maybe this has a robust single-player mode to compensate? Ha ha, no. This is just a basic tennis game with some truly poor-looking characters and no two-player mode. Nine dollars. The sheer boldness of it.
Sales
There are a few interesting sales already popping up today. Some deep discounts on Dandy Dungeon and Black Bird, both of which are well-worth owning. Jet Kave Adventure has its first post-release discount, so if you want a little prehistoric platforming, it's as cheap as it has ever been. Paper Train for five dollars is a nice deal for puzzle game fans. I'm sure we'll have a bunch more sales to check out tomorrow, so don't blow all of your cash today. As for the outbox, the Limited Run Games sale is finishing up. Cosmic Star Heroine is always a good pick-up, and Saturday Morning RPG for a buck is a real deal.
New Games on Sale
Dandy Dungeon – Legend of Brave Yamada ($16.99 from $24.99 until 11/5)
Black Bird ($9.99 from $19.99 until 11/5)
88 Heroes – 98 Heroes ($14.97 from $29.95 until 11/8)
Jet Kave Adventure ($14.99 from $19.99 until 11/11)
Chalk Dash Carnival ($2.12 from $7.09 until 11/14)
Shift Happens ($7.49 from $14.99 until 11/12)
Swap This! ($0.49 from $4.99 until 11/12)
Nidhogg 2 ($5.99 from $14.99 until 11/6)
Deponia ($19.99 until $39.99 until 11/12)
Red Siren: Space Defense ($4.99 from $9.99 until 11/12)
Mad Bullets ($4.99 from $9.99 until 11/12)
Edna & Harvey: Harvey's New Eyes ($14.99 from $19.99 until 11/12)
Paper Train ($4.99 from $9.99 until 11/12)
Spaceland ($13.49 from $14.99 until 10/30)
Sales Ending Tomorrow, Friday, October 25th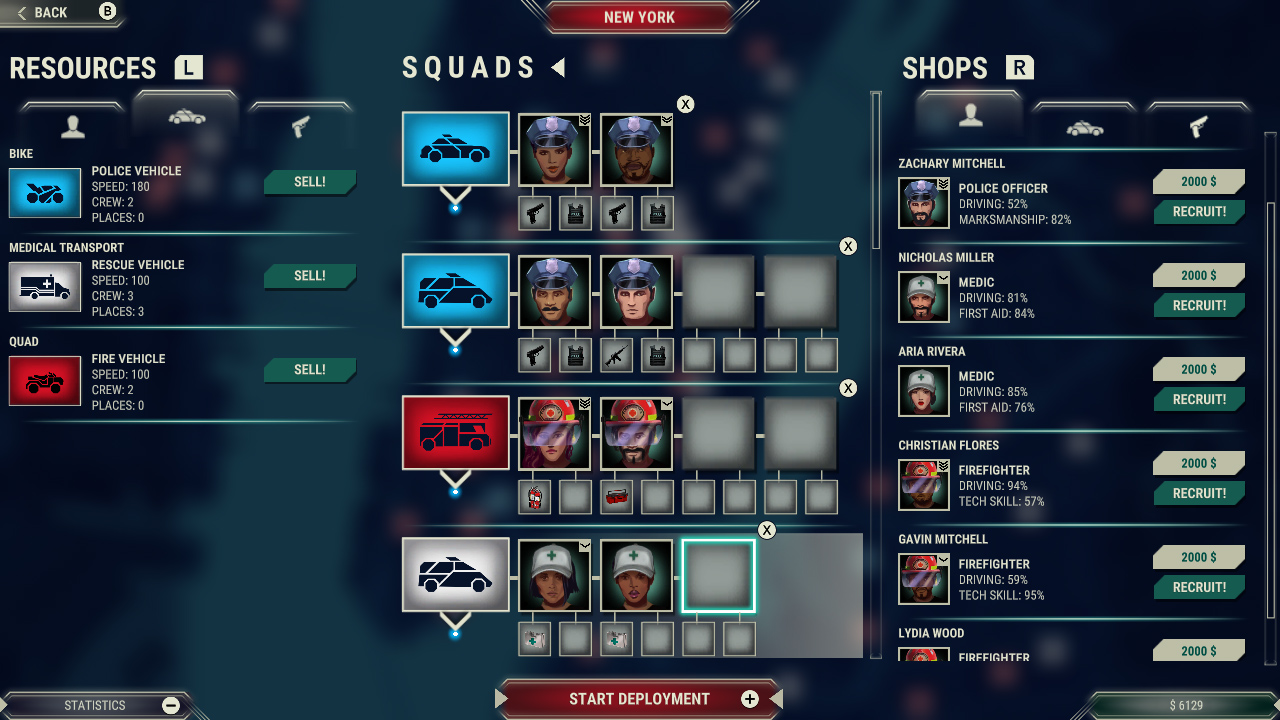 911 Operator ($0.99 from $14.99 until 10/25)
Airfield Mania ($4.19 from $5.99 until 10/25)
Almost There: The Platformer ($4.79 from $9.99 until 10/25)
Astro Bears ($4.89 from $6.99 until 10/25)
Cosmic Star Heroine ($4.49 from $14.99 until 10/25)
Dawn of Survivors ($1.99 from $4.99 until 10/25)
Deployment ($2.49 from $9.99 until 10/25)
Double Switch – 25th Anniversary ($12.25 from $14.99 until 10/25)
Earthworms ($0.99 from $7.99 until 10/25)
Food Truck Tycoon ($3.49 from $4.99 until 10/25)
Megaquarium ($22.13 from $24.59 until 10/25)
Night Trap – 25th Anniversary ($4.49 from $14.99 until 10/25)
Pet Shop Snacks ($3.74 from $4.99 until 10/25)
Revenge of the Bird King ($0.09 from $4.99 until 10/25)
Rimelands: Hammer of Thor ($7.99 from $9.99 until 10/25)
Saturday Morning RPG ($0.99 from $9.99 until 10/25)
The Way Remastered ($0.99 from $14.99 until 10/25)
VSR: Void Space Racing ($0.99 from $4.99 until 10/25)
That'll do it for today, friends. Tomorrow will see another big wave of new releases, along with what I'm sure will be an avalanche of sales. Depending on how busy things are, I may throw in some news or reviews, but we all know how Fridays can be. Did you pick anything up today? Or are you still playing through some games you already bought? I hope you all have a great Thursday, and as always, thanks for reading!