SwitchArcade Round-Up: 'Puyo Puyo Champions' Review, 'ToeJam & Earl' to Receive a Big Update, 'Meow Motors' Releases Today, the Latest Sales, and More
Hello gentle readers, and welcome to the SwitchArcade Round-Up for May 8th, 2019. Today we're having a look at SEGA's latest puzzler Puyo Puyo Champions with a full review. We'll also be looking at today's sole new release Meow Motors, digging into a bit of news, and checking out the latest and hottest sales. Let's crack our knuckles and get into it!
News
'ToeJam & Earl: Back in the Groove' Has a Funky New Update Coming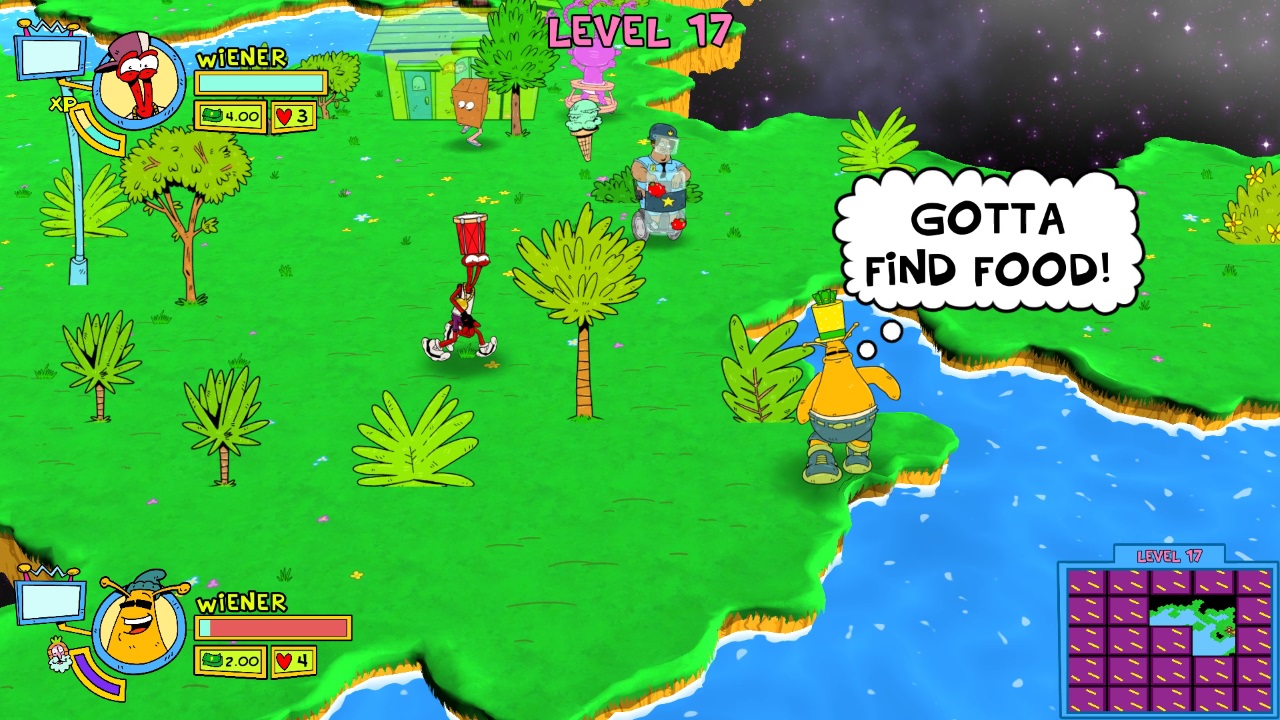 Like a lot of games released these days, the launch version of ToeJam & Earl: Back in the Groove was really just the start. Now that most of the nastiest bugs have been buttoned up, the team has some interesting new features in store for the 1.4.0 update. One of the biggest things is the addition of support for three or four players in local multiplayer. The only caveat to this mode is that players aren't able to get more than three levels away from each other, so you have to somewhat stick together. This update also makes a number of changes aimed at making the game more challenging for expert players. Specifically, it's going to be addressing a couple of easily exploitable elements that some players have figured out. It shouldn't change the experience for beginners, but should provide a little extra bite for veterans.
The May Nintendo Switch Online Releases Have Been Confirmed
It's not really anything surprising here if you've been keeping up with the news this week, but Nintendo today confirmed that the three upcoming games that were listed on the Nintendo Switch Online site are indeed May's releases. Arriving next week on May 15th are Donkey Kong Jr., Clu Clu Land, and Vs. Excitebike. The first game, Donkey Kong Jr., needs little introduction. The second, Clu Clu Land, is an early NES release that isn't terribly well-liked. The third game, Vs. Excitebike, is the most interesting of the lot. Distinct from the arcade Vs. Excitebike that is already available on Switch, this game was originally released on the Famicom Disk System and never left Japan. It has a few key differences from the NES Excitebike, allowing you to play a two-player simultaneous mode and actually letting you save your custom courses, for starters. This will be the first time the game has been made available in the West.
This Week's 'Smash' Event Will Remind You to Call Your Mother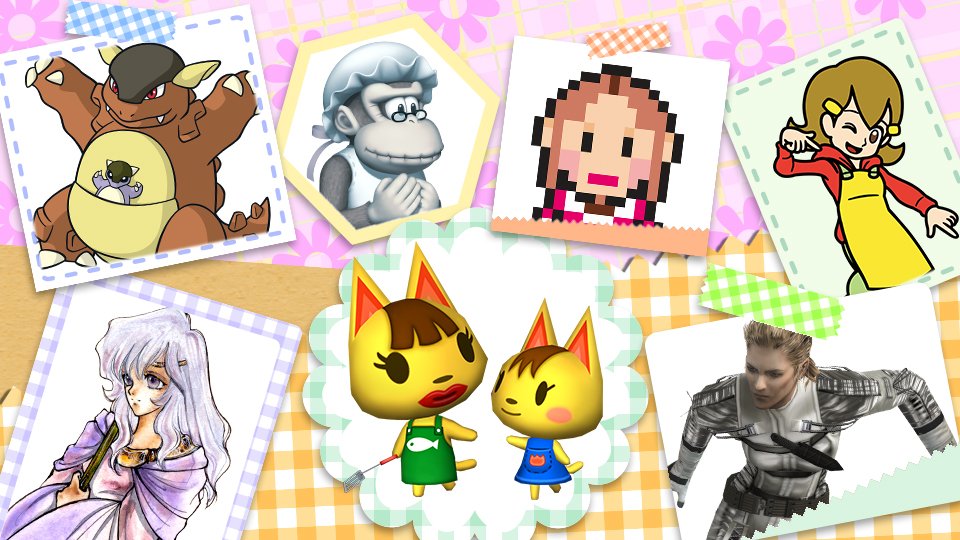 Spirit Board events in Super Smash Bros. Ultimate don't take holidays off, but this one will at least provide a bit of public service by reminding a whole lot of players that it's Mother's Day in many countries this Sunday. Yes, it's a Mother's Day-themed event this time around, focusing on motherly spirits. Given how most video game plots go, that's a whole lot of deceased characters, BUT I DIGRESS. These motherly spirits will appear more often for the duration of the upcoming weekend, and defeating them will provide you with a Health Drain item and triple the usual spirit points. Have fun with the event, but for the love of all that is good do not forget to call your real mother because you were too caught up playing Smash, okay?
Reviews
Puyo Puyo Champions ($9.99)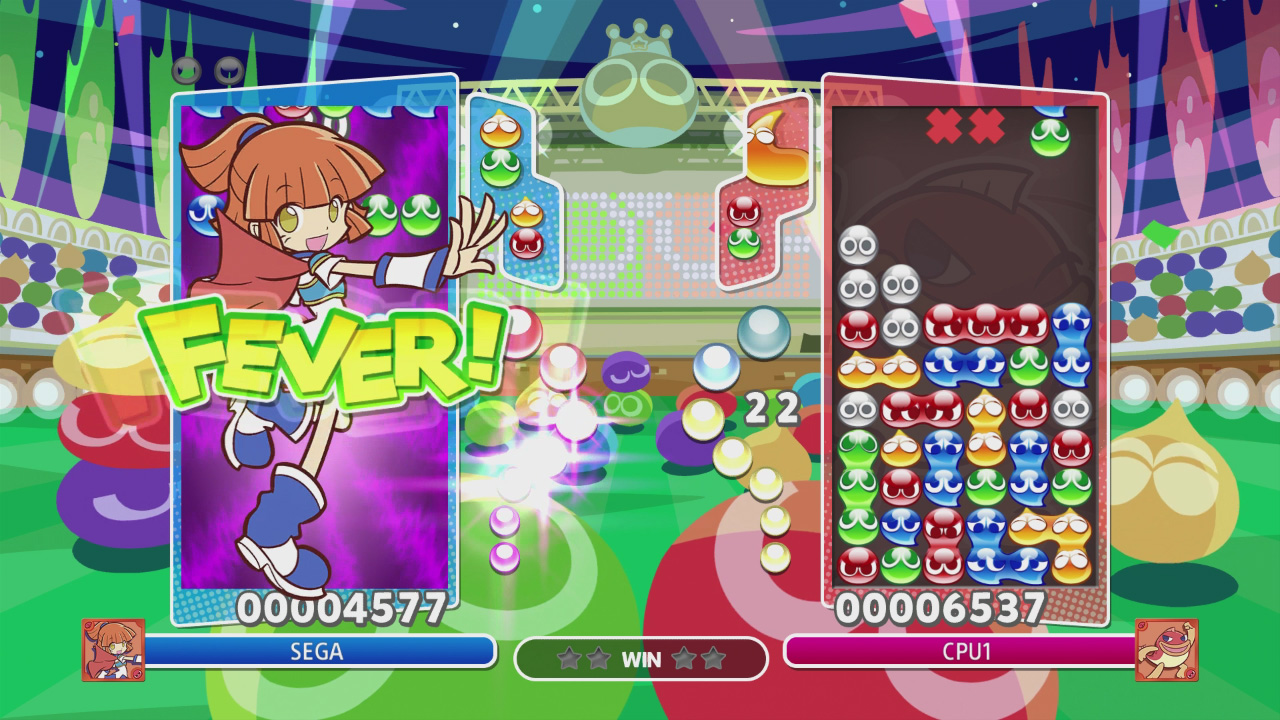 I've probably been through this before, but why not do it one more time? Puyo Puyo is a series of falling blob puzzle games that goes back to the 1990s. Originally created by developer Compile, SEGA acquired the series in the late 1990s and for the most part has left it to its success in Japan. Indeed, despite the rather large number of releases in the series, it's only showed up outside of Japan a few times. The most notable instances were when the Super NES and Genesis versions of the original Puyo Puyo were rebranded and released in the West as Kirby's Avalanche and Dr. Robotnik's Mean Bean Machine respectively.
SEGA's been getting a bit more serious about building the brand worldwide lately, however. It started with the 3DS SEGA Classics Collection, which contained a special 3D version of Puyo Puyo 2 on it. A small step, to be sure. The next move was a lot bigger, as SEGA decided to release a localized version of the enjoyable mash-up Puyo Puyo Tetris. And now here we are, with a proper Western release of the latest game in the series, Puyo Puyo Champions. Dreams can come true if you believe hard enough, friends.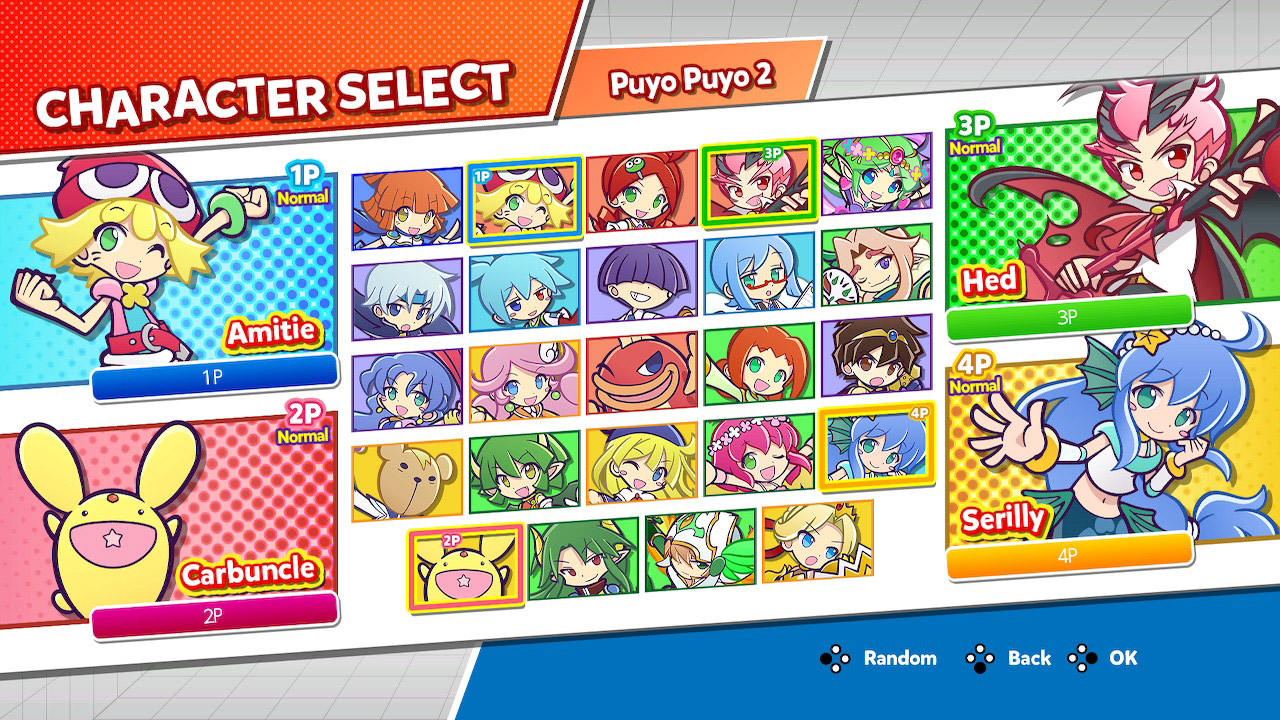 This is a very well-made version of Puyo Puyo that caters towards people who want to play the multiplayer side of the game. It contains two separate rule sets that cover the popular Puyo Puyo 2 and Puyo Puyo Fever eras, and offers four-player local multiplayer and full online multiplayer options. You can even practice up by playing against CPU opponents offline. Tons of characters from previous installments in the series are available, a feature that is admittedly less effective when so few of said games have seen release outside of Japan. To top it all off, the game is launching at the rather low price of $9.99. Depending on what you're looking for in a puzzle game, it's a very enticing package.
From the start screen, you can immediately hop into a single-player round of either set of rules. The differences between the two largely come down to how "pure" you want your puzzle action to be. Fever introduces a lot of weird elements to spice things up, like Fever Moves and odd types of blocks. Regardless of the set you choose, the CPU opponent is quite tough by default. If you're totally new to Puyo Puyo, however, this is probably your best place to start. You can also access these solo modes from the game's main menu, and even play with up to three CPU players. That said, there's no story mode here. The single-player content essentially just comes down to a series of exhibition matches.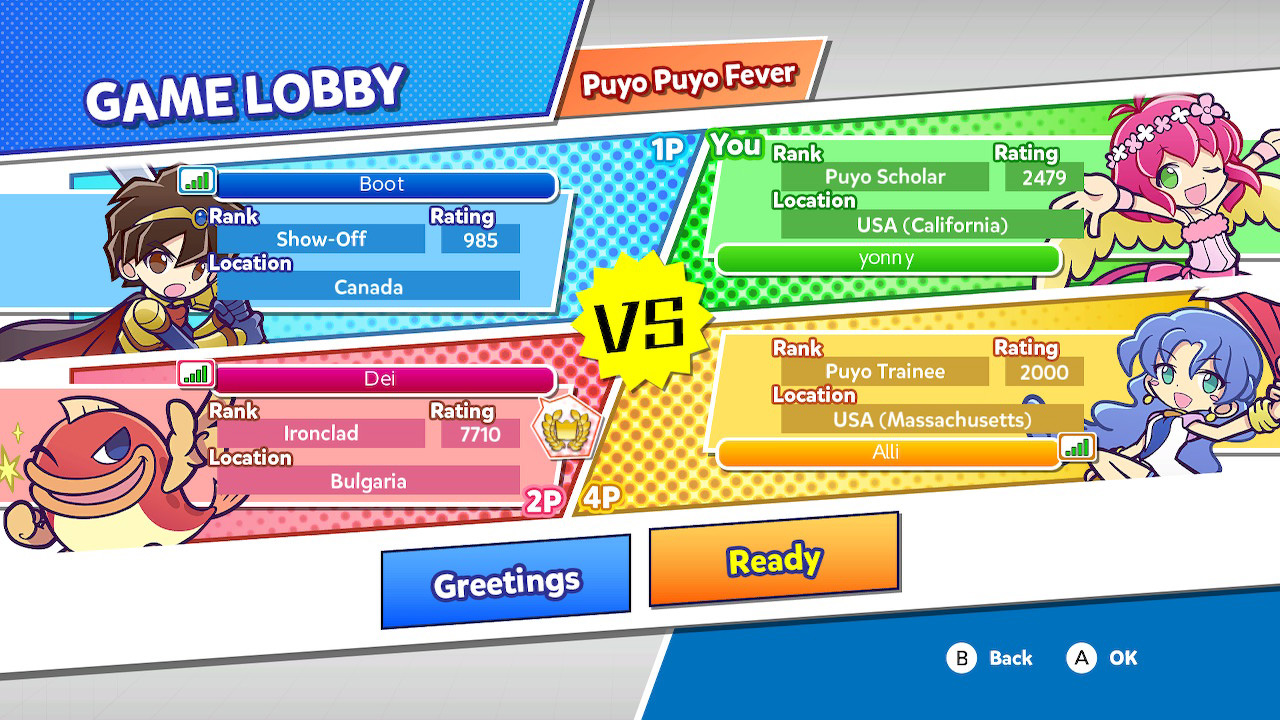 Puyo Puyo Champions is more interested in a connected experience. You can play multiplayer locally either on one screen or between multiple systems wirelessly. The online mode allows you play in either a ranked league or an unranked free play mode, and you're also able to watch highlight videos from other players' matches. Playing online is smooth and there certainly doesn't seem to be a shortage of opponents, but be warned: there are a lot of extremely good Puyo Puyo players out there. Some of them have been playing this series for a couple of decades. If you haven't, at bare minimum, mastered chaining three or four matches with one piece, you'll probably be measuring your rounds in handfuls of seconds. Naturally, you can seek out a friend to play with them, but if you leave it to the mercy of the game's matchmaking, you'll swiftly find that it is utterly merciless.
Unless you're a very skilled player, you'll probably want to stick to playing Puyo Puyo Champions with people you know. The solo mode sadly gets old pretty quickly, so if you don't really have anyone to play with and you're not a strong Puyo Puyo player, this may not be the game for you. I'd encourage you to check out Puyo Puyo Tetris or even wait a little bit until the upcoming release of SEGA AGES Puyo Puyo instead. But if you're already quite familiar with this series or are willing to take a lot of lumps to get that way, this is a wonderfully well-presented Puyo Puyo title with lots of fun options to maximize multiplayer mirth. It's not quite as well-rounded a package as some other Puyo Puyo games, but at the price it's at, it's hard to complain too much.
SwitchArcade Score: 4/5
New Releases
Meow Motors ($14.99)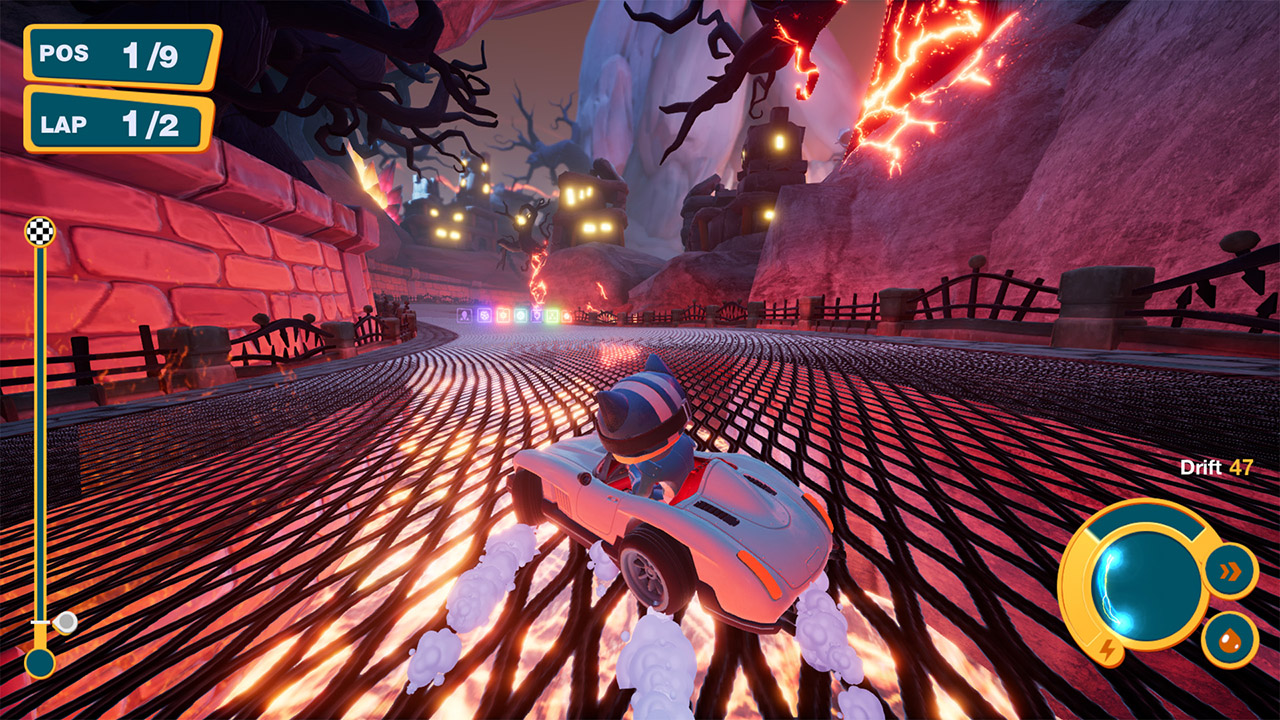 SwitchArcade Highlight!
I know what you're thinking: you've only got room for one silly animal racing game this month, and Team Sonic Racing is it. And yeah, if that's the case you're probably better off with that game. But Meow Motors is surprisingly good! You get 20 tracks and 10 different cats, almost all of which have to be unlocked by playing in single-player. The tracks are really nicely designed, and although the racing lacks the punch of either of the AAA kart racing franchises, it's not too bad at all. Multiplayer is limited to two players local, but given that this is a fair bit cheaper than the other options, it's alright that it's lacking a bit in features. The biggest knock on this game is the utterly massive file size. It occupies more than 7 GB, so make sure you have lots of space on your memory card if you want to play with this ball of yarn.
Sales
As ever for a Wednesday, it's something of a calm before a storm. As you can tell by the large number of games going off-sale tomorrow, there are likely going to be some deck chairs being shuffled around over the next several hours. For now, we've got some great sales on Playism's titles. Kero Blaster is a steal at any price, and Astebreed and Croixleur Sigma are nice games to pick up on discount as well. The outbox is mostly full of games that tend to cycle on and off of sale every couple of weeks, but the Kairosoft discounts are unlikely to reappear again for a while.
New Games on Sale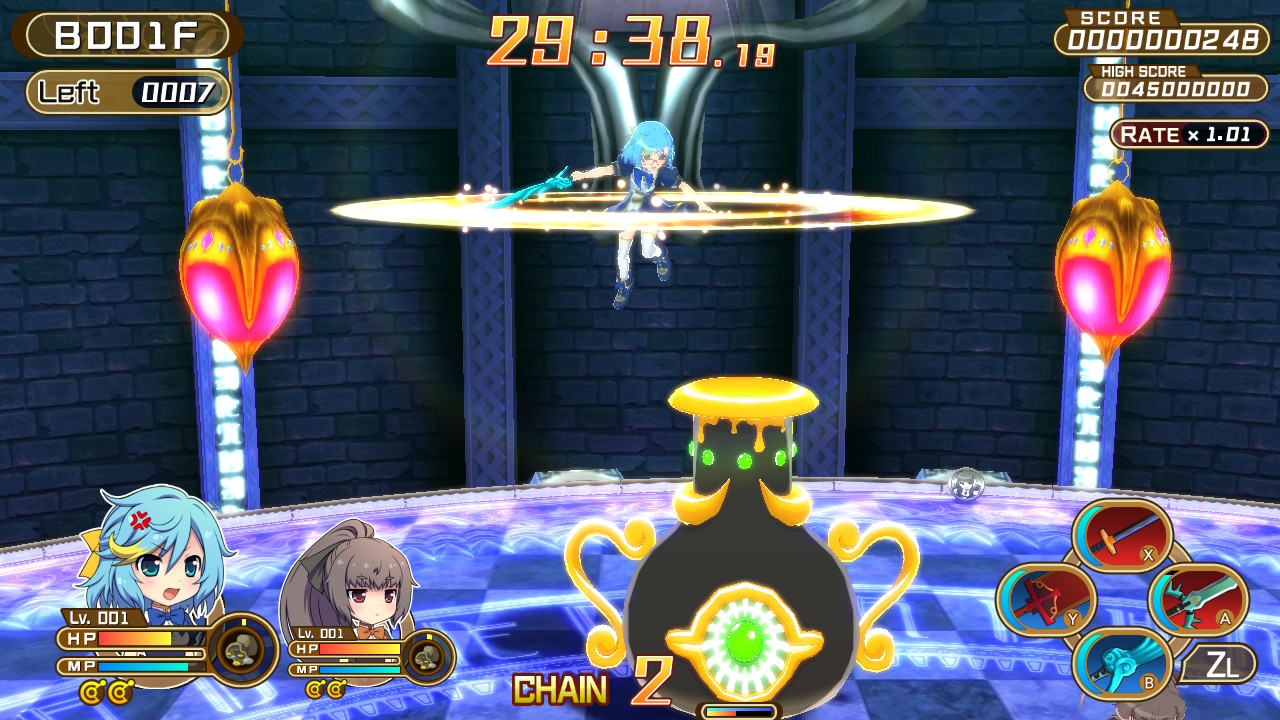 Croixleur Sigma ($11.99 from $19.99 until 5/22)
Astebreed ($13.99 from $19.99 until 5/22)
Light Fingers ($14.99 from $19.99 until 5/16)
Kero Blaster ($6.99 from $9.99 until 5/22)
Vertical Strike Endless Challenge ($3.49 from $4.99 until 5/22)
Angels of Death ($10.49 from $14.99 until 5/22)
TorqueL -Physics Modified Edition- ($4.99 from $9.99 until 5/22)
Yet Another Zombie Defense HD ($3.99 from $4.99 until 5/29)
Car Mechanic Manager ($3.19 from $3.99 until 5/20)
Boom Ball: Boost Edition ($6.49 from $12.99 until 5/13)
Sales Ending Tomorrow, Thursday, May 9th
A Ch'ti Bundle ($9.99 from $15.99 until 5/9)
A Hole New World ($2.99 from $9.99 until 5/9)
Anima: Gate of Memories ($11.99 from $19.99 until 5/9)
Anima: Gate of Memories Arcane Edition ($26.99 from $29.99 until 5/9)
Anima: The Nameless Chronicles ($11.99 from $19.99 until 5/9)
Awe ($3.49 from $4.99 until 5/9)
Azure Reflections ($12.49 from $24.99 until 5/9)
Battlloon ($3.49 from $6.99 until 5/9)
Brave Dungeon + Dark Witch Story ($6.29 from $8.99 until 5/9)
Chalk Dash Carnival ($2.83 from $7.09 until 5/9)
Chameleon Run Deluxe Edition ($2.99 from $5.99 until 5/9)
Construction Machines Simulator ($26.54 from $29.99 until 5/9)
Dead Fun Pack ($1.04 from $6.99 until 5/9)
Dead Synchronicity: Tomorrow Comes Today ($5.99 from $14.99 until 5/9)
Demon's Crystals ($8.24 from $14.99 until 5/9)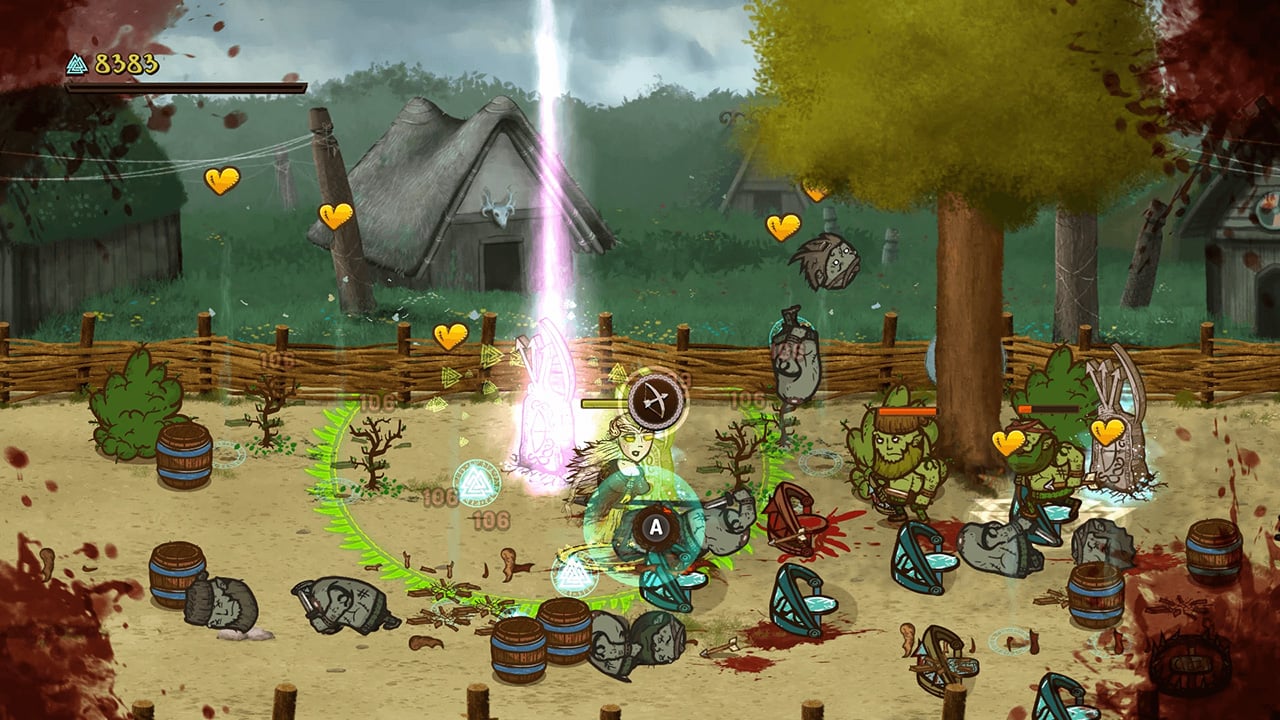 Die for Valhalla! ($5.99 from $11.99 until 5/9)
Don't Knock Twice ($6.24 from $12.49 until 5/9)
Dungeon Village ($9.80 from $12.00 until 5/9)
Ethan: Meteor Hunter ($6.99 from $9.99 until 5/9)
Farm Together ($17.99 from $19.99 until 5/9)
Football Heroes Turbo ($9.74 from $14.99 until 5/9)
Frane: Dragons' Odyssey ($11.69 from $12.99 until 5/9)
Freaky Awesome ($7.14 from $12.99 until 5/9)
FunBox Party ($0.99 from $1.99 until 5/9)
Game Dev Story ($9.80 from $12.00 until 5/9)
Gensokyo Defenders ($13.99 from $19.99 until 5/9)
Ginger: Beyond the Crystal ($9.99 from $19.99 until 5/9)
Gym Hero – Idle Fitness Tycoon ($1.83 from $2.29 until 5/9)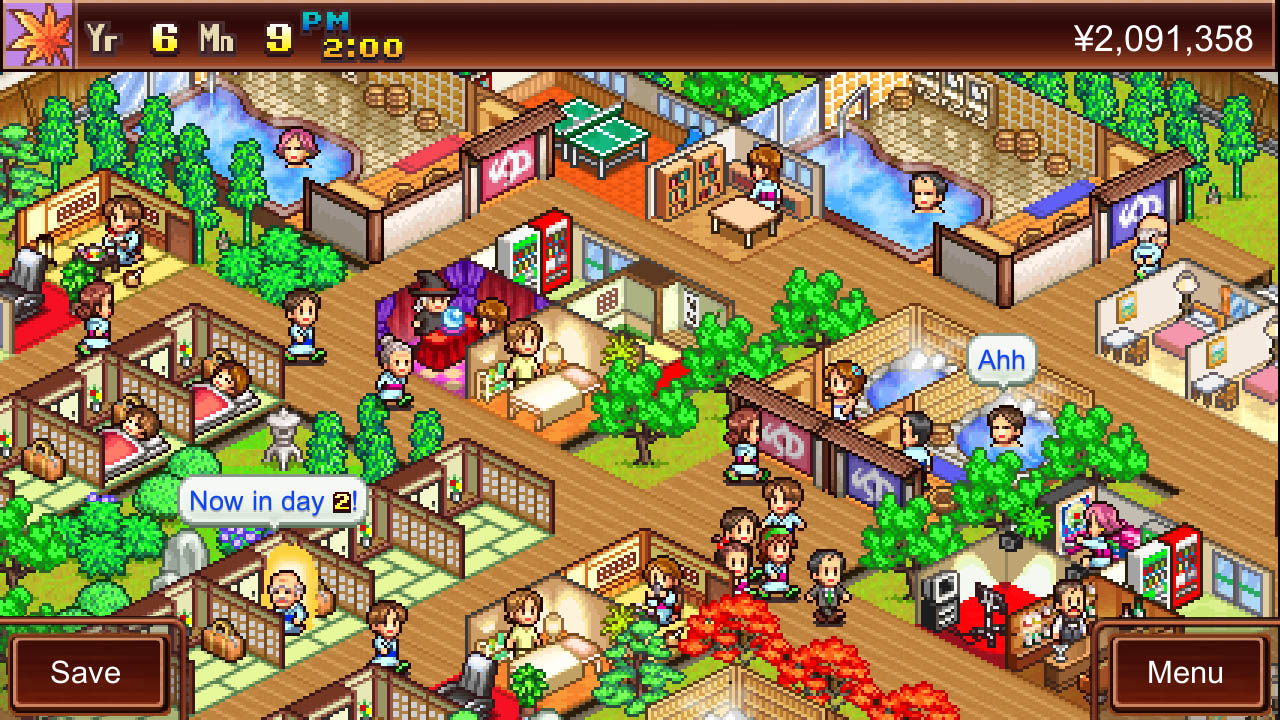 Hot Springs Story ($9.80 from $12.00 until 5/9)
Hotel Dracula ($4.83 from $5.69 until 5/9)
Inside My Radio ($6.99 from $9.99 until 5/9)
Leopoldo Manquiseil ($1.99 from $3.99 until 5/9)
Mad Carnage ($0.99 from $4.99 until 5/9)
Mars: Chaos Menace ($5.49 from $9.99 until 5/9)
Monument Builders Rushmore ($1.99 from $6.99 until 5/9)
Moonfall Ultimate ($6.49 from $12.99 until 5/9)
Necrosphere Deluxe ($5.59 from $7.99 until 5/9)
Nightmare Boy ($4.99 from $9.99 until 5/9)
Rocket League ($11.99 from $19.99 until 5/9)
Six Sides of the World ($3.00 from $10.00 until 5/9)
Tactical Mind ($0.99 from $2.99 until 5/9)
The Midnight Sanctuary ($4.99 from $9.99 until 5/9)
Tinboy ($0.79 from $1.99 until 5/8)
Tiny Metal ($12.49 from $24.99 until 5/9)
X-Morph: Defense ($14.99 from $19.99 until 5/9)
That's about all for today, friends. Tomorrow is Thursday, so we're going to see a ton of new games showing up really soon. It's also extremely likely that a large number of new sales will kick off, and there's almost always some kind of news going on. I guess what I'm saying is that you'll want to swing back around here in about 24 hours to see all the stuff that's going. I'm going to enjoy a little peace and quiet today and see if I can pull out a few more wins online in Puyo Puyo Champions. As always, thanks for reading!