SwitchArcade Round-Up: 'Warparty' Review, SEGA Fes News, 'Samurai Shodown Collection' Coming in the Fall, New Releases, Today's Sales, and More
Hello gentle readers, and welcome to the SwitchArcade Round-Up for April 1st, 2019. We've got some cool news and info for you in today's article, and that's no fool. There's a review of the prehistoric-themed RTS Warparty, news of upcoming SEGA games, a summary of today's one new release, and some interesting sales to have a gander at. Let's start the week and the month off on the right foot, friends!
News
'Samurai Shodown NeoGeo Collection' Coming to Switch This Fall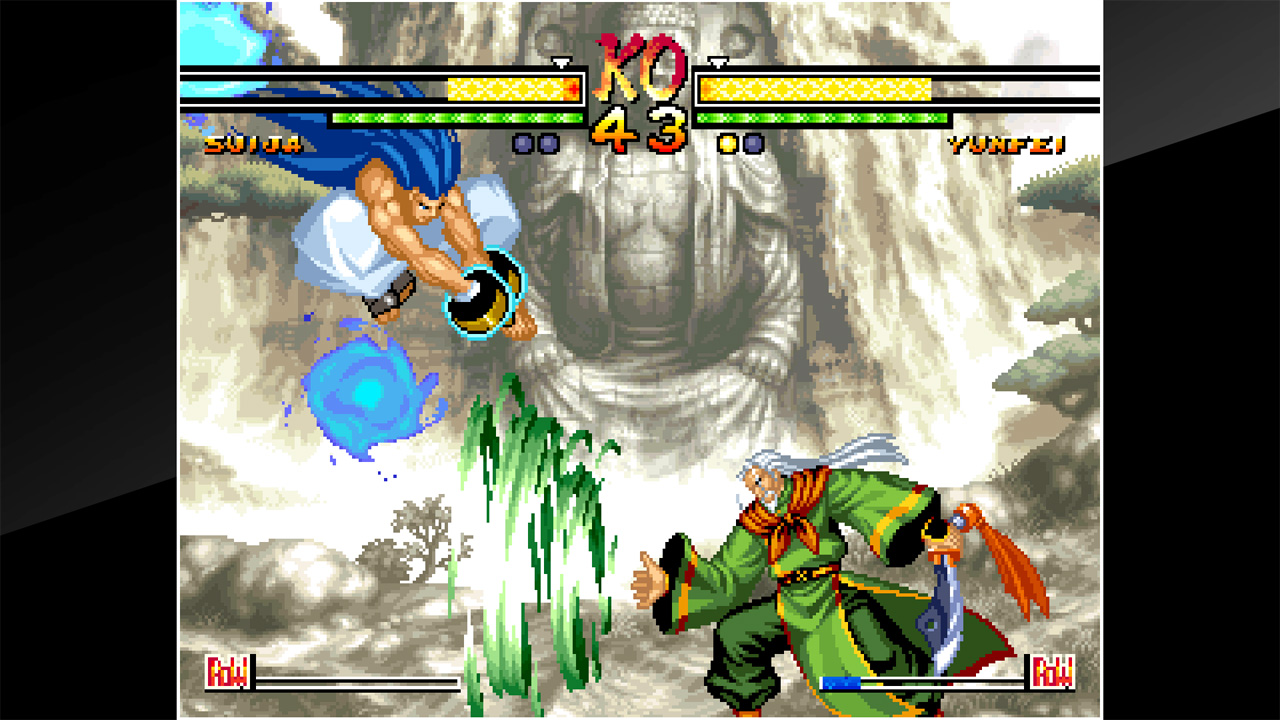 (Pictured: ACA NEOGEO Samurai Shodown 5)
After more than 10 years out of action, the Samurai Shodown series of fighting games is making its comeback this summer with a brand new installment. So far, it looks like a great game. But for those who want to brush up on the history of this series, SNK has you covered. This fall, Samurai Shodown NeoGeo Collection will hit the Switch and other platforms, collecting the whole NEOGEO set of Samurai Shodown fighting games. You might ask why you would wait for this when there are perfectly good Hamster versions already on the eShop? Well, this collection is being handled by Digital Eclipse, which means we are probably getting some amazing extras and options.
SEGA Announces Six More 'SEGA AGES' Games for Switch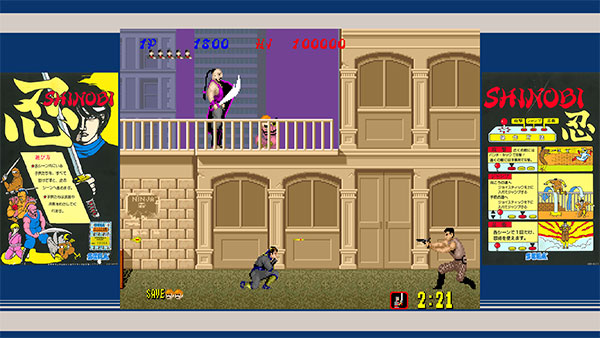 This last weekend, SEGA held their annual SEGA Fes event in Japan. The event acts partly as a celebration of all things SEGA for the fans, but SEGA has also been using it to make announcements that have particular appeal to their core base. For example, we got a lot of details on the Genesis/Mega Drive Mini, and the new Sakura Wars game for PlayStation 4 had the veil lifted off it. Particularly relevant for Switch owners was the announcement of six more SEGA AGES titles, and they really do run the gamut. The list includes the pioneering Genesis RTS Herzog Zwei, the Afterburner spiritual successor G-LOC, the extremely obscure Ichidant-R, and three games that likely need no introduction: Fantasy Zone, Shinobi, and Wonder Boy in Monster Land. Given that M2 is still working through the games it announced last September, these games are probably a ways off, but hey, they're coming.
A Pair of Olympics Games Will Come to Switch From SEGA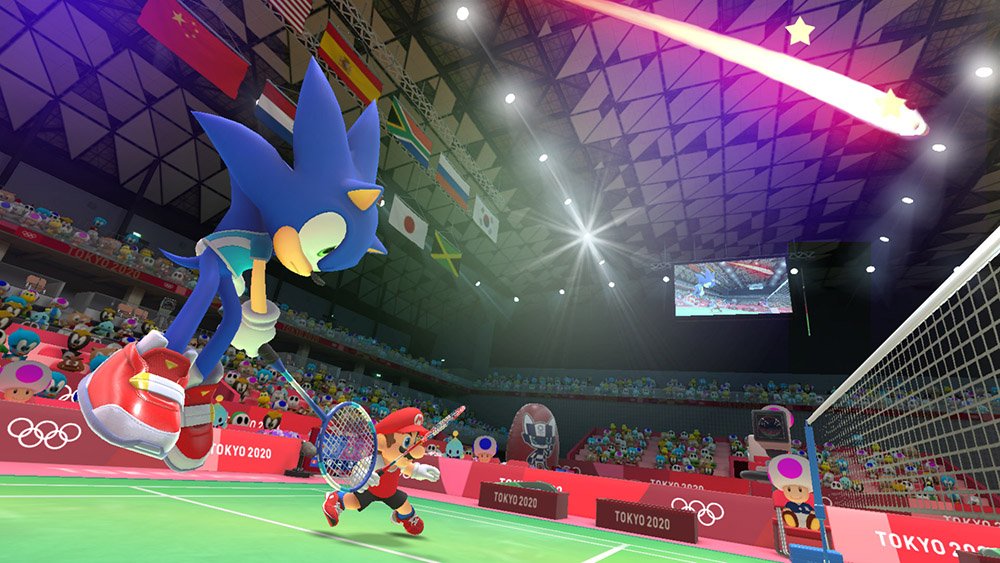 Since becoming good pals a while back, Sonic and Mario have been meeting up on the regular to play out their own version of the Olympics. With no release for the 2018 Winter Games, there may have been reason to think that perhaps their misadventures were at an end, but no, it seems like there are more meetings ahead. At SEGA Fes, the company also outlined its release plans for the 2020 Olympic Games in Tokyo, and the net result for Switch owners is two games based on the event. Mario & Sonic at the Tokyo Olympics is there filling the usual spot, while Tokyo 2020 Olympics: The Official Video Game will provide a marginally more realistic take on the event.
Reviews
Warparty ($24.99)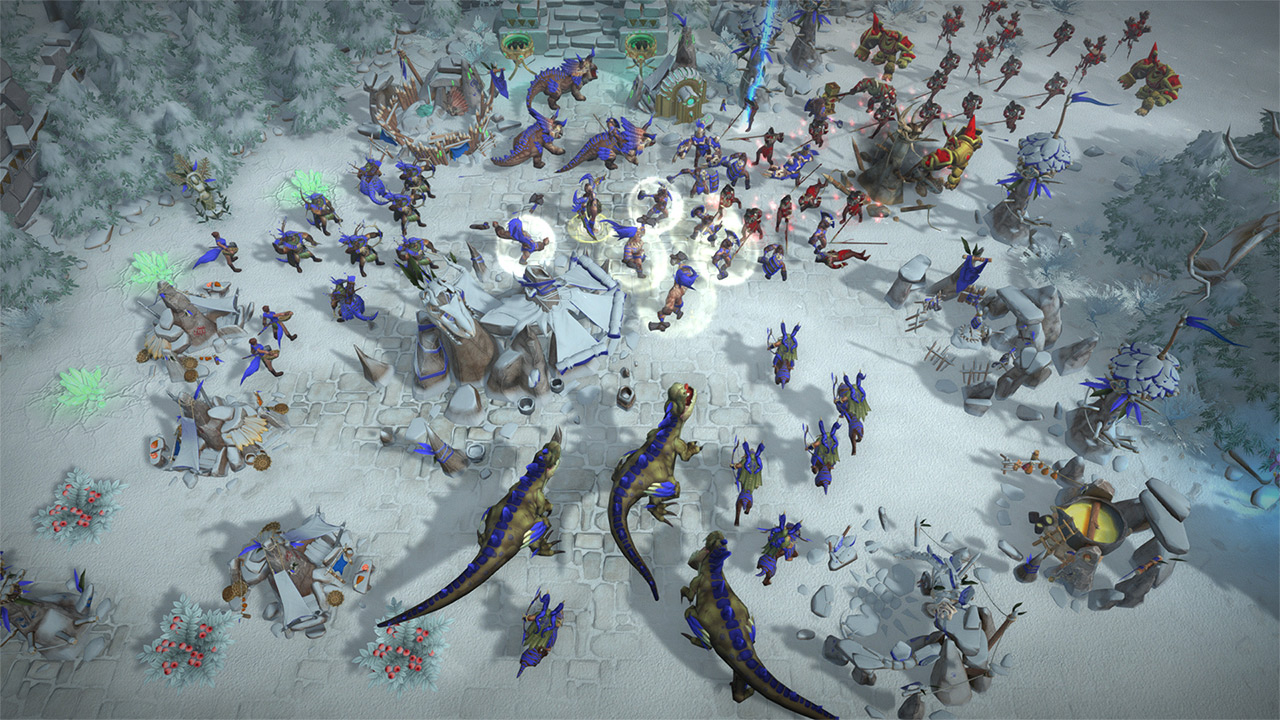 Despite the popularity of the RTS genre, there have historically been relatively few released on consoles, and even fewer worth playing. The answer as to why it's been that way comes down to just how happily married the genre is to mouse controls. Consoles can usually make PC games work on controllers one way or another, even if it doesn't turn out quite as good. But RTS games involve picking out tiny units and giving them orders with great speed and efficiency, and no matter how good you are with an analog stick, it's hard to beat a mouse at what it was essentially built for.
Even so, I've always had an odd fascination for console RTS games. I can't help but respect the attempt to spit in the face of the general opinion, and some of them turn out to be rather fun anyway. And frankly, if any dedicated gaming hardware was equipped to handle a PC-style RTS properly, the Switch is it. Lots of buttons, a touchscreen, and packing a high enough resolution to display things properly. It can handle local multiplayer and online play for the ever-important multiplayer modes, too. So when I saw Warparty pop up in the upcoming releases, I was a little excited. The game was reasonably well received by PC gamers, and I really dig its unusual caveman/dinosaur/yet-somehow-scifi theme.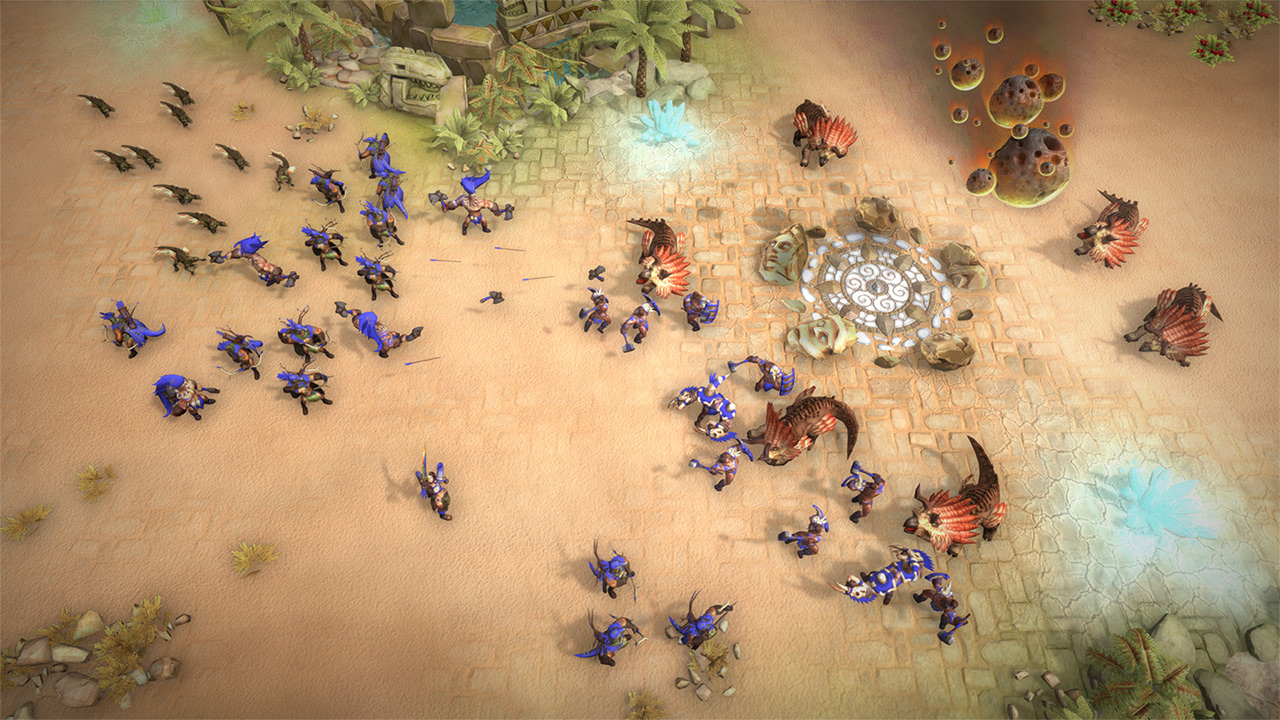 Unfortunately, Warparty doesn't quite reach the hopes that my imagination was toying with. While I can understand the need for functional controls that don't use the touchscreen for those playing docked, it would have been nice to have some optional touch controls in here. There's a great spread of single-player content here, including three campaigns and a skirmish mode, but absolutely zero support of any kind for multiplayer. And everything is still a wee bit too small on the Switch screen, so it's not the most intuitive thing to play on the go. Well, at least the theme holds up its end of things. I sure hope you aren't hoping for decent voice acting, though, because this feels like some "hired the janitor"-level stuff. Is it weird that I find that nostalgic?
Mechanically speaking, this is a remarkably traditional take on the RTS genre. Pick one of three factions, build a base, send villagers out to gather resources, build structures, put together some attacking units, and try to wipe out the enemy and their base. Your opponents will do the same to you, of course. There are also some wild dinosaurs and such on the map that can throw a wrench into things. It's a well-tested formula, to be sure, but there are so few of these traditional-style RTS games anymore that it's quite welcome even if it doesn't do much new. That consoles don't have many games like this at all only increases its appeal.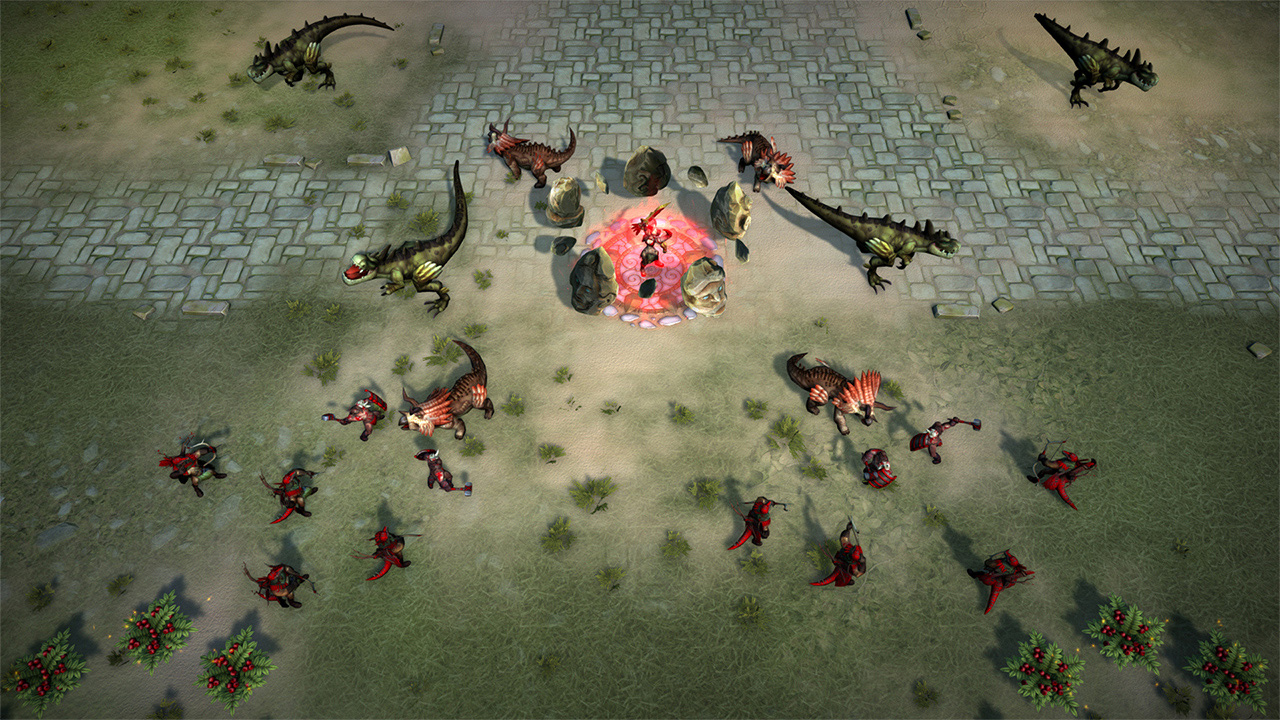 Assuming you're playing on the TV and you don't mind the lack of multiplayer, how the game controls is likely your chief concern. The game makes extensive use of all the buttons and uses radial menus that work well with the analog stick. Selecting a group of units works fine as long as precision isn't paramount, as you can easily open up a circle that selects all of the units within. The game seems largely unconcerned with teaching you the controls, so you'll want to check them in the settings menu before you get going. Once you learn them, they work decently enough. Like, I'm not sure I'd want to go against another human player with these controls, but that's not really an issue here at all, is it?
I'm not going to lie, having dinosaurs under my command probably bumped that score up a little bit. It's nice to see a game like this break away from the standard two or three settings the genre typically uses, and it's a fairly inspired choice given that the gameplay in these things is literally hunting and gathering. The game makes some attempt at an interesting story and while the writing isn't too bad, the voice acting is so genuinely awful that I just started tuning that stuff out after a while. It's almost impossible to take any of it seriously.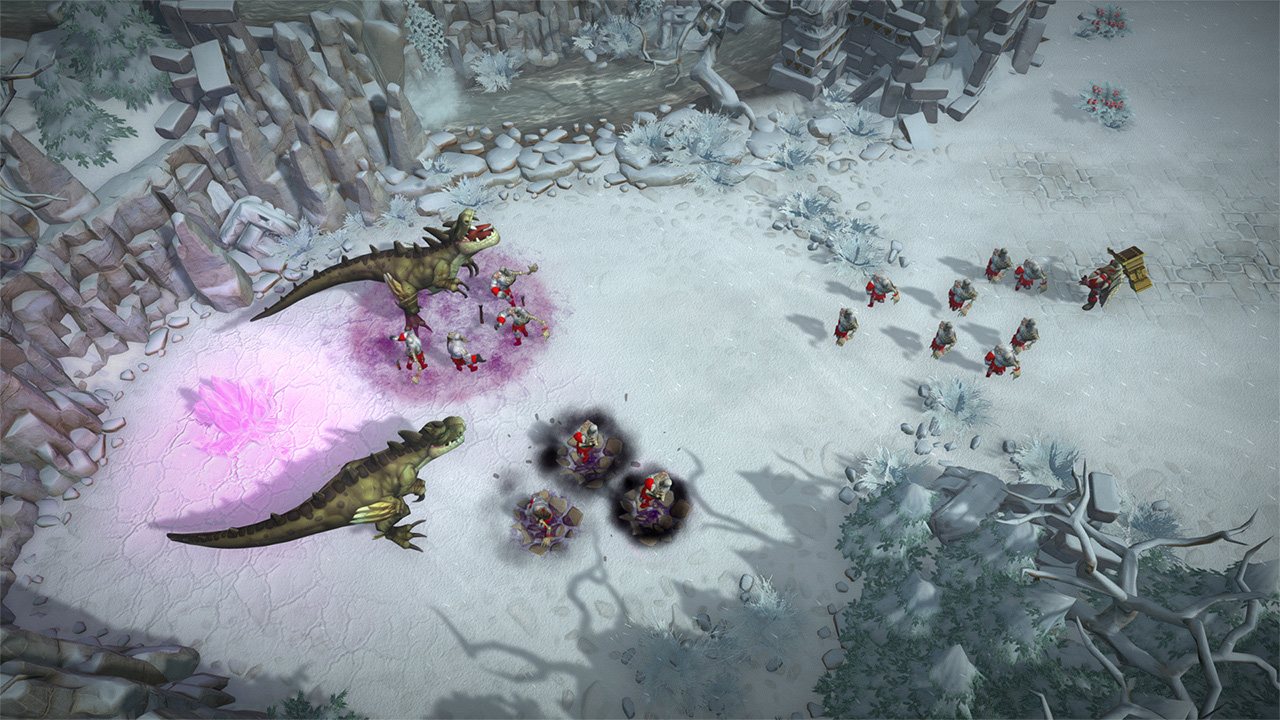 As long as you're aware of what you're signing up for, I think Warparty is a decent game. It's a by-the-books RTS game that has an interesting theme, a fair amount of single-player content, and no multiplayer whatsoever. It grapples with the issue of RTS controls on a device without a mouse and comes away with the usual results, and its details are a bit too fine to make out easily on the Switch's built-in screen. On the other hand, DINOSAUR ARMIES. Weigh those facts against each other as you wish. I would have loved if it were better in some ways, but Warparty isn't too bad on the whole and is certainly an unusual specimen on the Switch, so I kind of dig it.
SwitchArcade Score: 3.5/5
New Releases
Darkest Hunter ($5.30)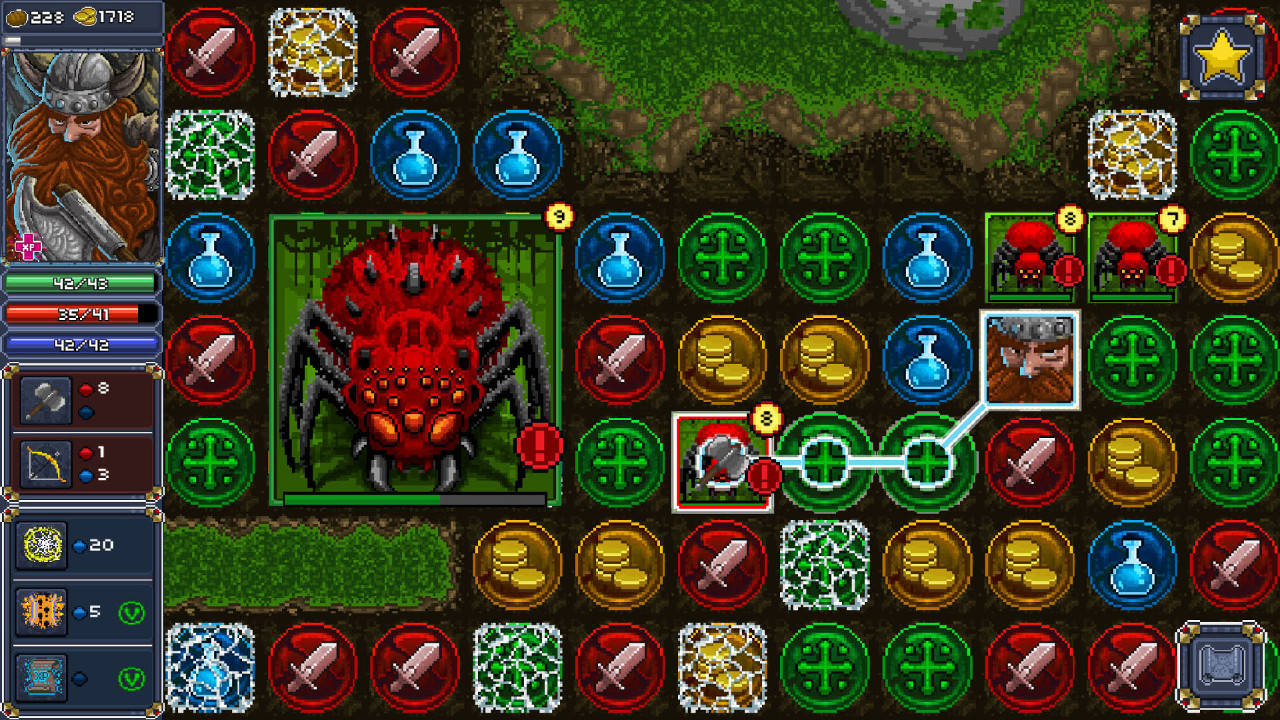 This is a match-3 crossed with RPG elements, a combination I am usually very up for. And yet, Darkest Hunters just doesn't do it for me. The RPG elements are too inconsequential, and the match-3 gameplay lacks any interesting ideas of its own. You could probably have a little fun with the game in shorter bursts, but I think it lacks the satisfying crunch that I'm looking for in this kind of hybrid. The pixel art looks pretty cool, at least. But yeah, probably better off sticking with Puzzle Quest, Hero Emblems, or You Must Build a Boat on your mobile device instead. I'm sure something better than this will eventually come along on Switch.
Sales
It's not the biggest list we've seen, but there is some good stuff in there. Celeste and TowerFall are both pretty great pick-ups assuming you don't already own them, and METAGAL for four dollars is one of the easiest recommendations around for action-platformer fans. Looking at the outbox, make sure you grab OMG Zombies! while it's still only a dollar and change. It's not the deepest game around, but it's very satisfying as long as you don't mind a little blood and gore.
New Games on Sale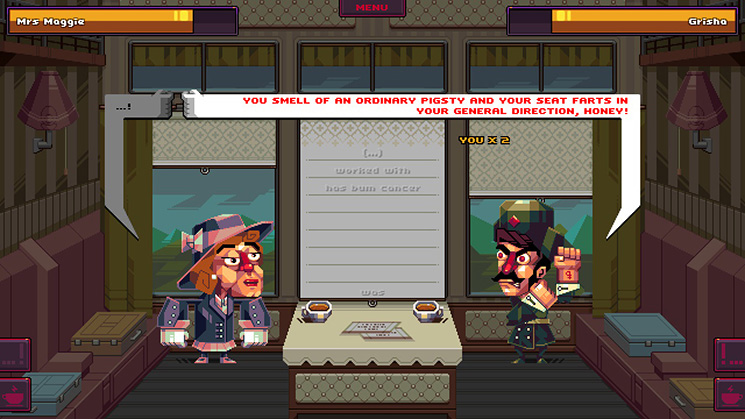 Oh…Sir! The Insult Simulator ($0.79 from $1.99 until 4/5)
Oh…Sir! The Hollywood Roast ($1.19 from $2.99 until 4/5)
Friday the 13th: Killer Puzzle ($9.99 from $19.99 until 4/5)
Circle of Sumo ($7.99 from $9.99 until 4/8)
Jewel Fever 2 ($3.99 from $4.99 until 4/15)
Car Mechanic Simulator ($10.49 from $14.99 until 4/14)
METAGAL ($3.99 from $4.99 until 4/15)
Tardy ($4.99 from $9.99 until 4/20)
Mars or Die! ($9.99 from $19.99 until 4/19)
TowerFall ($9.99 from $19.99 until 4/7)
Super Inefficient Golf ($3.99 from $7.99 until 4/19)
Otto ($2.49 from $4.99 until 4/19)
Parallel ($2.99 from $9.99 until 4/19)
Celeste ($13.39 from $19.99 until 4/7)
Elli ($13.99 from $19.99 until 4/22)
Sausage Sports Club ($10.00 from $15.00 until 4/2)
Spartan ($1.19 from $3.99 until 4/21)
Devious Dungeon ($5.35 from $7.99 until 4/15)
Twin Robots: Ultimate Edition ($3.99 from $7.99 until 4/15)
Binaries ($2.59 from $12.99 until 4/22)
Sales Ending Tomorrow, Tuesday, April 2nd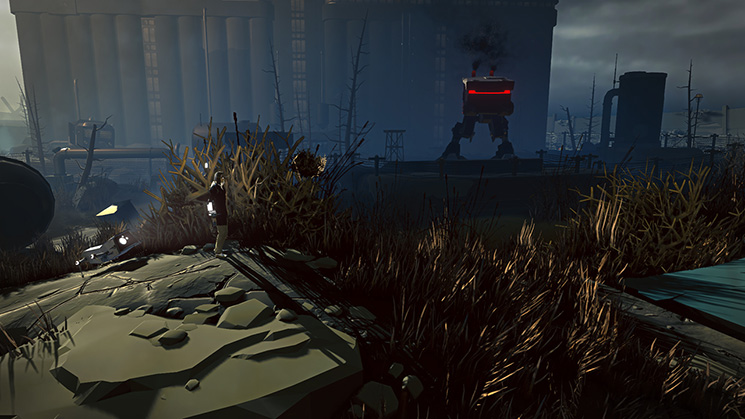 Black the Fall ($7.49 from $14.99 until 4/2)
Figment ($10.99 from $19.99 until 4/2)
OMG Zombies! ($1.24 from $4.99 until 4/2)
Pirate Pop Plus ($3.34 from $4.99 until 4/2)
Sausage Sports Club ($10.00 from $15.00 until 4/2)
That's all we've got for today, friends. I'll be back tomorrow to cover whatever news and sales come our way in the next 24 hours, along with summaries of the trio of new release games on the schedule. I should also have another review that I wasn't quite able to finish in time for today's article. I'll see you all tomorrow, and remember: don't believe anything you see on the internet today. Especially THIS.